Thank you all for the help on Naming My Veggies! It was seriously a huge help in being able to at least name my new food!
After finding out what my loot was named I went in search of recipes. I loved the sound of the recipes you sent, but already found this one for the turnips and was sold. Tonight's dinner recipe was inspired by this recipe I found on My Recipes.com.
I busted out the long stemmed apples turnips, gave them a good cleaning and chopped them up.
Ingredients: turnips, apple, large sweet potato, dried cranberries, agave, brown sugar, olive oil, lime juice, cinnamon.
I chopped up the turnips, sweet potato and apple and put them in a bowl.
In a separate bowl I combined: 1 Tb. lime juice, 2 Tb Olive Oil, 2 Tb Agave, 1 Tb brown sugar, dash of salt and cinnamon.
Then, I poured it on the chopped veggies/fruit and tossed it around. At this point I added the cranberries. Before putting it in the oven I had the amazing idea to add a can of chickpeas. I rinsed them off and tossed them in a Tb. of agave with a dash of salt and cinnamon before adding them to the pan.
Bake at 350 degrees for about 45 minutes.
Delicious! This is my new favorite dinner.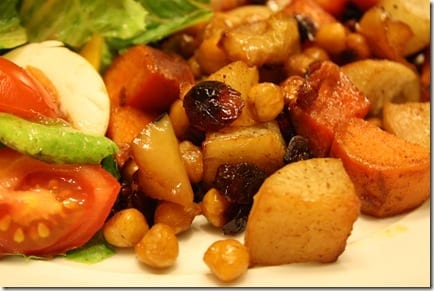 I am seriously in love with this!
Added bonus: Ben liked it too 🙂 He is not a big fan of chickpeas (I know, right?) but he is a HUGE fan of dried cranberries so I think they distracted him 😉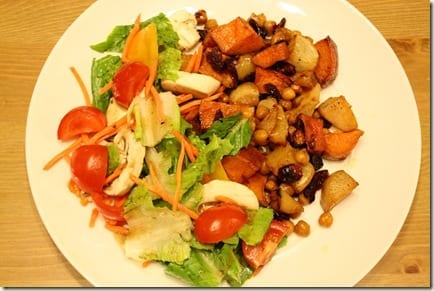 I have been getting a lot of really great questions from readers lately and thought I'd share my response on this one here.
I love your style of eating/cooking. What are you most conscious about? how many calories something has? how much protein? how much fat? where the ingredients come from?
My first thought when I read this was, I don't think there is one of those options that really jumps out at me.
I think my thought process when I am going to eat is first "What do I want to eat?"
I usually go straight for that because my tastes are mostly healthy and I know that denying myself what I want just means I'll eat it anyways.
Then I often ask myself: "Will it keep me full until my next meal/snack?" and "Should I add some protein or fat to that?"
I am aware of the fact that I need protein after runs, so I should incorporate it into breakfast (I run in the morning). That takes some effort/thought on my part because one of my fave breakfasts is almond butter toast – not exactly the highest protein option .
I am also aware that I'm more likely to binge if I don't eat some kind of fat with breakfast or lunch. So, 9 times out of 10 there is nut butter with breakfast 🙂
Outside of that, I'm not aware of one thing more than another. I do not count calories or fat grams. Seriously. I am horrible with math in my head and really have no clue what things on plate add up to unless I make it a point to do that.
I try to keep in mind where the ingredients come from and I'm trying to buy more local foods. I also keep in mind that I disagree with factory farming, so if I'm going to ever eat meat then I would have to plan ahead and buy organic. This really  never occurs to me at the store, so it doesn't happen.
Note: I will never say who asked me any question, as I want you to feel comfortable to ask me anything 🙂
In other news, I talked myself out of buying ice cream when I stopped at the store today for a few things. Now I totally regret it. SOB.
I was all proud of myself at the store, now I'm pissed at myself. Fantastic work, Monica.
I am now staring at this old pic longingly…
See ya later!
Run SMART Goals
Fill out this form to get the SMART Running Goals worksheet to your inbox!