I've been training for this weekend's marathon for three months. Some runs were good, some were bad. I skipped some because of travels. I rocked some because I felt great.
I regret that I failed to complete any legitimate speed work even though I wrote it into my plan. But what's done is done.
All the miles and training (or lack thereof) are behind me now. I have 4 days until the race. Now it's time to focus on getting my mind ready to tackle this challenge.
The mental aspects of running a marathon are huge. I've heard some people say it's just as much mental as physical and I can believe it. There are days when I go into a run  knowing it's going to be a good one – and it is. And other are other times when I am feeling negative and my run is bad because of it.
When I step outside for a long run 90% of the time I know whether it's going to be a good or bad run within a few minutes.
I've been really psyching myself out these last few days. My last few long runs were slower than my goal pace. My legs have felt heavy. Overall, I just don't feel fast – or confident.
With 4 days until the race I can't add any runs to boost my confidence. Now it's all about positive thoughts and good mantras. All I can do now is get my head in the race.
Run The Planet offers some positive thoughts to tell yourself during the tough parts of a run and suggests imagery too:
Examples of mental strategies during your training

Self-talk thoughts Think and say to yourself…

"If this was easy, then everybody could complete a

marathon

"

"Keep running… Maybe I will feel better when I have some drink"

"If I quit now, I will be very disappointed in myself later this afternoon"

"I am not really physically tired; I am more fatigued mentally"

"Completing this important training run will give me confidence and enable me to finish the marathon comfortably"

"In just one more hour this run will be finished and I will be in at home… showering, relaxing, eating, etc."

Imagery Imagine…

Imagine that you are a world-class runner and are in the lead of the Boston or Olympic marathon.

Imagine that your running form is smooth and graceful.

Imagine that your a running effortlessly and very relaxed.
This morning I drank a cup of coffee to make sure it was okay in my stomach – I plan on drinking some on race day and wanted to be sure. Then, I set off on my last 6 miler before Long Beach. I wish I would have been faster, but I've got to talk myself up now.
Today is Waffle Wednesday. Does anyone else think Waffle Wednesday sounds like Awful Wednesday? Tragic.
But, I only had one lonely waffle left. I decided to top it with AB and PB (pumpkin butter) and have a big smoothie on the side.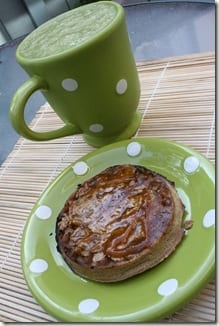 I don't normally put bananas in my smoothies, but did it today. Totally didn't realize what I was missing 🙂
But one waffle is not enough, so I grabbed a sandwich thin and slathered it with more PB. Love.
Question: What do you tell yourself when you want to quit?
What do you tell yourself to get pumped up?
You have until 8PM PST today to enter my Commit to Fit giveaway.
Run SMART Goals
Fill out this form to get the SMART Running Goals worksheet to your inbox!