Morning! I actually had a horrible night's sleep. I woke up at 4am, my thoughts racing about 100 different things and could not go back to sleep. I tossed and turned until it was time to wake up and now my eyes sting from lack of being closes long enough.
I decided to opt out of a morning run because I was so tired. I may try to go on a 2 miler to loosen up in a bit.
Breakfast consisted of two foods I needed to use up before they went bad: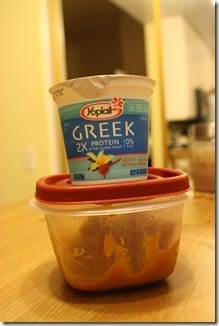 In a bowl with cereals, Attune granola, chia seeds and almond butter 🙂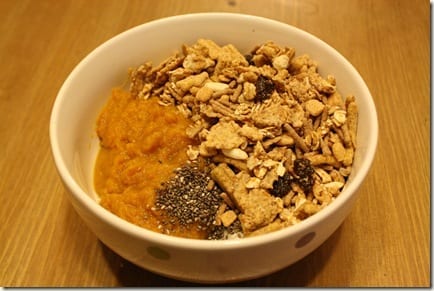 And lots of coffee because I'm feeling rough.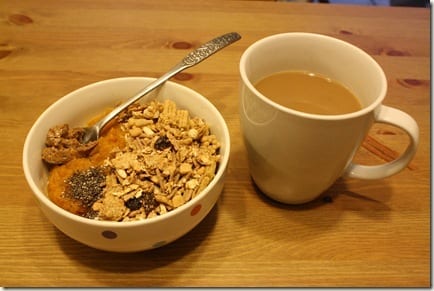 Did anyone catch "What's Eating You" on E! last night? It is a documentary style show about people with eating disorders. I was about to go to sleep when  I saw it was on and caught the second half.
I thought it was very interesting. Last night's episode followed a girl with bulimia and one with anorexia. One realized she had a problem, but wasn't in a good place to actually stop it. The other had an extremely distorted body image and couldn't see how thin she was.
It's not as easy as telling someone with anorexia "just eat" or someone with binge eating disorder (BED) "don't eat". So, you can see the frustration the girls' families feel.
Eating disorders come with serious psychological issues that should be treated by a professional.
Danni's story struck a cord with me. At one point she said something to the effect of, "I don't know how to just feel hungry and full. It's either an extreme of one or the other."
Also, her therapist said that the eating disorder was not the problem – it is a symptom of the problem. Getting to the real problem will help heal the eating disorder. I think getting there requires a lot of real honest talk with yourself and a therapist too.
If you think you have an eating disorder or disordered eating please get professional help. If you don't have insurance talk to someone you know, a school counselor or your health center.
National Eating Disorder Association
Binge Eating Disorder Association
Question: Anyone else catch it? Thoughts?
Run SMART Goals
Fill out this form to get the SMART Running Goals worksheet to your inbox!