Hello and welcome to Friday! I woke up thinking it was Sunday and I was late for the race, so I am extra happy it's only Friday 🙂
I did an easy 5K to get my legs moving and some ab work. I definitely want to work on strengthening my abs because I get majorly poor form when I'm fatigued during a run. But, that is another post for another day.
After my run I made breakfast whilst g-chatting with Glenn Jones, who is running the LB Half. Glenn, I hope we finally meet in person at some point! Perhaps on a trail run? Hint, hint.
Simple stuff: english muffin with AB and banana and pumpkin butter. Sprinkling of chia seeds because I enjoy picking them out of my teeth for the rest of the day. It's funny because it's true.
And yogurt because a bigger breakfast is better :)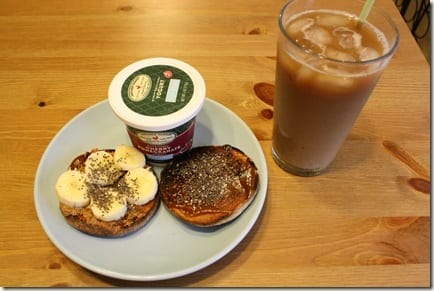 Seriously kids, since bulking up my meals I feel so not "food obsessed" like I used to be most of the time.
If you are always thinking about food – eat more during meals and snacks. Then, go on and live your life 🙂
Question: Who is racing this weekend?
Any other grand plans?
Run SMART Goals
Fill out this form to get the SMART Running Goals worksheet to your inbox!