In keeping with the Zero Week training plan I skipped a run this morning and opted for a morning yoga session. I only go to Level 1 classes right now, so it's more of a stretch session than a work out, but it's the only way I'll a.) ever stretch and b.) actually coax myself to go to yoga.
Pre-yoga fuel to go: Smoothie and PB&PB.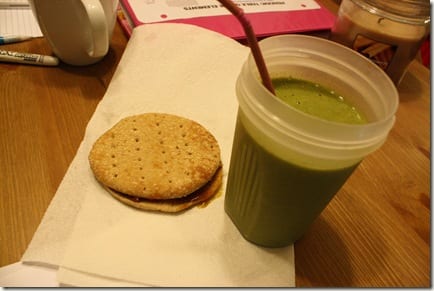 After yoga I went to Trader Joe's. They are in the same complex, along with a Yogurtland and numerous other locations that melt my heart. Orange County is pretty nice 😉
Anyways, I found a ton of new amazing foods! One of which is the illusive Larabar I've been searching for…I ate one of these in the car on the way home. Oops.
And Pumpkin Cream Cheese! I tried this on some bread when I got home. Yes, it's amazing.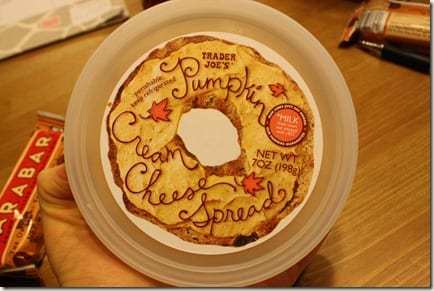 Not going to lie my reaction to this pumpkin cream cheese was wildly inappropriate and involved fantasies that I'd rather not discuss. Anyone else picturing how our love children would look?
I recently received this question from a reader and thought I'd share my answer:
Hi Monica!
I've been reading your blog for about a year, and thought that you might be the best blogger to weigh in on my question.
I run and race as a hobby (just ran a 10K today! I have giant blisters now though.) I'm not very fast, and I didn't start exercising at all until 3 years ago, when I took up running. I'm also a total foodie – I love the process of picking out recipes, grocery shopping, cooking, and sharing food.
My family, though, doesn't seem to get it. My sisters have both asked recently if I have an eating or exercise disorder based on a.) that I love sharing recipes and talk about food a lot and b.) I have a set training schedule for running and bring my shoes when I go visit. I do take days off frequently! I only run about 4 times a week. They aren't very athletic or active, so it seems weird and controlling to them that I'm so particular about when/how far I run and even what I eat beforehand
I feel balanced and healthy. I'm wondering if you have any advice for showing them that it's okay to love both exercise and food and even normal for a lot of people? I'm thinking of training for a marathon (Boston! My university has a charity team, so I can be super slow and run my 10 minute miles lol!) but I'm afraid that they'll think that the long runs and routine/schedule required for training are proof of a disorder.
Thanks!
First off, if you truly feel balanced and happy then, own it and don't let anyone make you second guess your lifestyle.
The beauty of being an adult is you don't have to answer to anyone any more. You can choose to eat ice cream for dinner, or oatmeal or both! You can choose to sleep in until noon on the weekends or get up at 6am for a run. You should do what you want.
When people give you crap about running or eating a certain way have a canned response ready like, "I really love running now, it's fun and makes me feel good. What's wrong with that?"
Or since it seems they think your running is excessive, educate your family on how much training is required to get ready for a race. Some people run 7 days a week – let them know you are only doing 4 so that you "don't over do it". This might let them know you're not getting too extreme.
My family and friends don't really "get" my obsession with running or food. But, when they tell me something I make it clear that I am happy this way and will not be swayed (I can be kind of a bitch about it so you might want to take a lighter approach, but make sure the message is relayed).
At first is it was super weird to my family. I turned vegetarian. What?! And I started walking to lose weight. Hmmm…
Then, I started running. I'm sure they thought, "Who is this girl and why is she always running?" But, they eventually got used to it and truly accept me for who I am. Now my family comes out and supports me at races and I'm so happy they understand my love for running even if they don't share in that passion.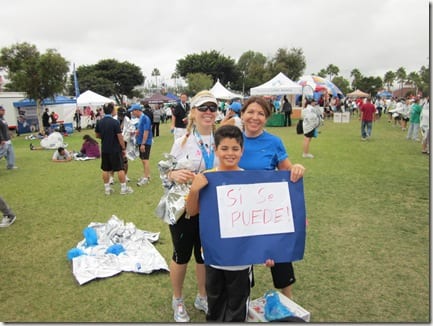 Keep doing what you're doing. Live a balanced life. Make yourself happy. The people who love you will see you're happy and be supportive 🙂
I think inviting your family to a race might be super helpful too. It's always eye opening to people who don't run to see runners and walkers of all ages, weights and abilities in a race. It's all different kinds of people trying to get active and be healthy.
As a side note: If more than one person, on more than one occasion has insinuated you have an eating disorder you should take a good, honest look and consider if it might be true. Talking to a professional doesn't mean there is anything wrong with you, but could be a good second opinion 🙂
Q: Anyone else want to chime in? How do you deal with it when family or friends give you a hard time about your eating or exercise habits?
Run SMART Goals
Fill out this form to get the SMART Running Goals worksheet to your inbox!