Good Morning and Happy Monday! I have a lot of things to do, so I'll make this quick.
I started my week with a 4 mile run that ended with some stomach issues. This has never happened before, so it was alarming. Let's just say I raced home and kicked Ben out of the bathroom. Not sexy.
I really wanted pumpkin cream cheese for breakfast, but I tried to talk myself out of it for some reason. Boo to that! Eat what you love and enjoy it 🙂
My taste buds won and I had an english muffin with pumpkin cream cheese on one side and PB&PB on the other.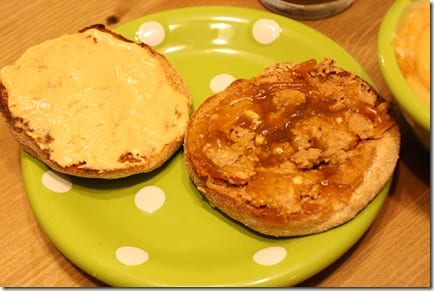 On the side I had pumpkin yogurt.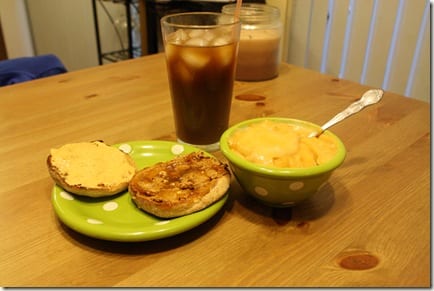 First I heated some leftover pumpkin with pumpkin pie spice.
Then, I dumped a container of Vanilla Almond yogurt on top of it. It was like "fruit on the bottom" yogurt where you have to stir it really well to mix.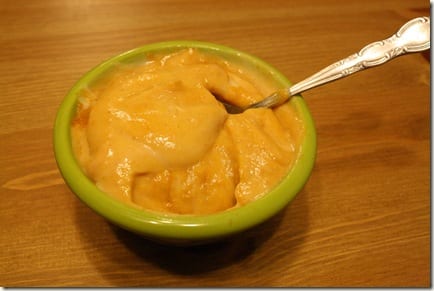 There is something very satisfying about eating exactly what you want and enjoying it. You walk away from the meal with your tummy full, but your head is full too. Does that make sense?
It's been a few weeks since I've done Monday Mini-Goals. They're back!
Monday Mini-Goals for 10/25/10:
1. Get 8 hours of sleep each night
2. Do Jillian's 30 Day Shred 3 times (!)
3. Spend 10 minutes stretching each day & do IT band strength moves
4. Have one healthy "whole food" afternoon snack each day
Have a good day!
Question: Do you have any Monday Mini-Goals to share?
Run SMART Goals
Fill out this form to get the SMART Running Goals worksheet to your inbox!