Hola! Bienvenido a Mexican Meatless Monday!
La Cena de esta noche : Black Bean Quesadillas
The other day I said I was a firework as the reason for my athletic achievements, but today I'm convinced it's because I'm Mexican.
Cain Velasquez proved it really is the "size of the fight in the dog" this weekend becoming the first Mexican-American to win the UFC heavy weight title. You can see a clip on YouTube here.
"If Anyone Can A Mexi-Can" t-shirts will be available soon at my Spreadshirt store 🙂
Okay back to dinner…
Here is an easy healthy quesadilla idea
First I sautéed onions, bell peppers and mushrooms until soft. Then, I added taco seasoning and a can of black beans.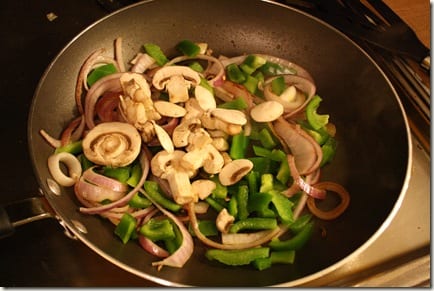 This filling would work great for fajitas too!
I piled in a ton of black beans, veggies and cheese into a tortilla and cooked it up until crisp on the outside and the cheese was melted.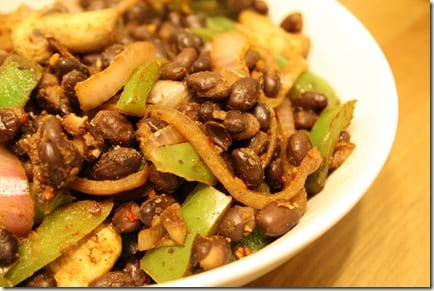 Tip: The secret to an evenly cooked and crispy tortilla is to put a heavy-ish pan on the top half of the quesadilla while it's cooking. Then, when the bottom is crisp, flip it and put the pan back on it. I use a light sauce pan and put something heavy inside it.
I served it with salad and salsa.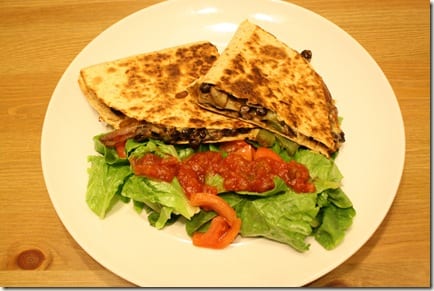 This is the other jar of salsa I got as part of the Foodbuzz Tastemaker program. Maybe I should be a real Mexican and make my own salsa. But, I don't think that's going to happen anytime soon.
It's been too long since I've had a quesadilla!
Snacks for school: Cabot Creamery sent me these cheese squares to try. Only 50 calories and 6 grams of protein – that's a good deal 🙂  I hate when "light" cheese tastes light and this one doesn't.
Lunch was an egg scramble with leeks, spinach and cheese. This is definitely on my top 5 new obsessions list.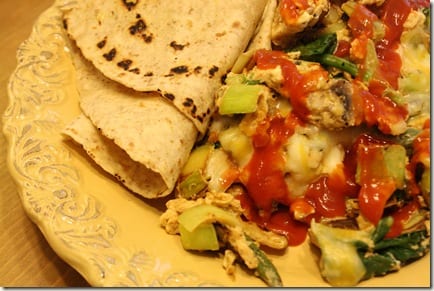 And a pear for dessert. This was perfectly ripe and super flavorful. I normally hate fruit that you have to wait for (to get ripe) so I avoid buying them. But, this came with the CSA and I'm glad 🙂
I am still fighting off a little bug that crawled in my throat to die so I stopped by WF for a juice. Pic MIA.
While there I picked up a treat for Ben: Macaroon Cookie dipped in Chocolate. I'm not a big fan of coconut, but this sucker looks amazing.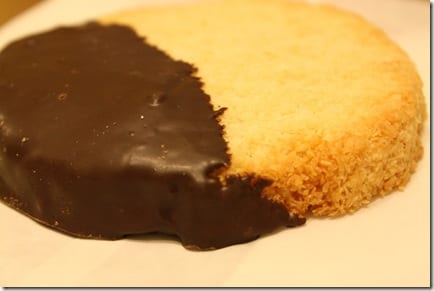 See ya in the morning 🙂
Run SMART Goals
Fill out this form to get the SMART Running Goals worksheet to your inbox!