Since I was a little girl my mom told me I was an Autumn or Fall complexion. I learned I looked best in earthy tones. I was called a pumpkin head and carrot top. But, I surprisingly liked the names and embraced my key colors. 
I also embraced my dog a little too roughly, but that's besides the point…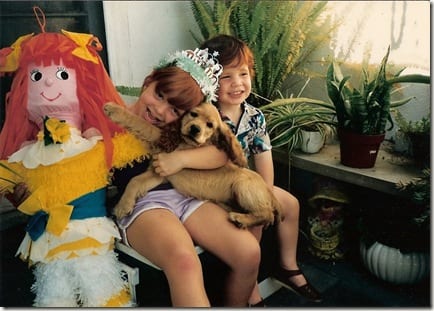 So, I guess this is part of the reason I love Fall so much. Maybe I look at a pumpkin like it's my long lost sister? I just feel more at home and grounded this time of year.
It's too bad there are no leaves changing in Southern California, but I did get to experience a "real" fall last year in Maryland 🙂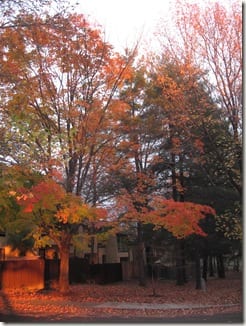 I'm writing all this to make myself feel better about the enthusiasm with which I bought this new Fall bowl. I LOVE it!
Before  breakfast I had the best 6 mile run. I meant to take it easy for another few days since I'm still coming back from the marathon, but I felt so good today!
6 miles with 8:44 average pace
Mile 1: 8:37 (this is where I realize I'm going to make it a good run)
Mile 2: 8:49
Mile 3: 9:08 hill
Mile 4: 8:22
Mile 5: 8:15
Mile 6: 9:14 cool down
Breakfast is brought to you in part by Stoneyfield who sent me a few coupons for some yogurt ages ago that I forgot about until yesterday. I thought about getting the plain, but then I thought that was a bad idea and went with Vanilla. Good decision.
In the bowl: warm pumpkin, Vanilla Oikos, Kashi Good Friends cereal, chia seeds and almond butter. I opened a new jar of AB told which meant extra time stirring and eating it to get it "just right". Anyone else do that?
The bowl has a cute little detail on the inside too 🙂
 Question: What colors do you look best in?
You can find out what season you are here.
Run SMART Goals
Fill out this form to get the SMART Running Goals worksheet to your inbox!