My cat is still warming up to this place.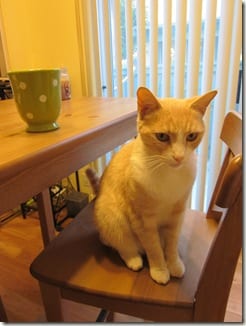 But, I don't think he'll ever warm up to me sticking the camera in his face all the time. Too bad.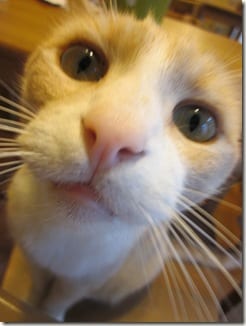 Before I left for an afternoon class and errands I had a yogurt. I used to love these, but I don't like them as much any more. 
I hit up Whole Foods for some lunch before my appointment this afternoon. It's right next door to my hair salon :). 
I got a pumpkin scone for lunch dessert. The frosting was the best part of this. When I gave Ben a bite he said "Oh, you got this from a health food store."
And my obsession: a detox juice. I cannot get enough.
Then, it was time for my appointment! Before picture:
Wanna see the after? Maybe later.
I bought some good bread for dinner. I have been craving really good, chewy bread and poured over all the different kinds in the Bakery section of WF for the longest time. I would pick one loaf up and examine it only to have another one catch my eye.
Finally I settled on a Fig loaf from La Brea Bakery. It's a seasonal pick and I'm a sucker for those.
We ate individual pizzas, cheese, bread, grapes and carrot sticks for dinner. Exactly what I wanted.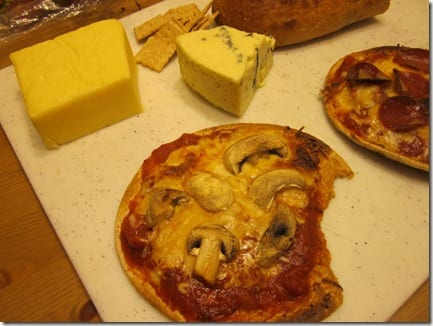 When it comes to good bread my "fullness meter" doesn't register. I can eat this stuff forever (and often do).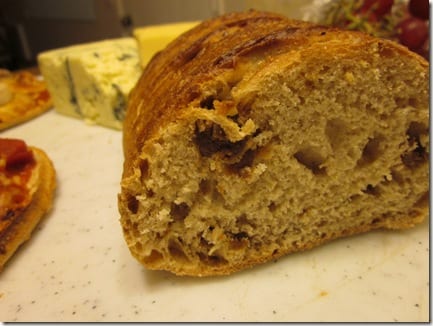 A sharp cheddar and gorgonzola 
And some much needed wine. I really need wine this week, but I have a long-ish run planned for tomorrow morning. I'll see if this was a complete mistake and let ya know.
Now for the Halloween Flashback…
Angel and Ninja Turtle – 3rd Grade
Penguin and Vampire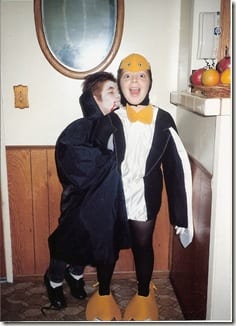 Skeleton and Cave Woman  2nd Grade?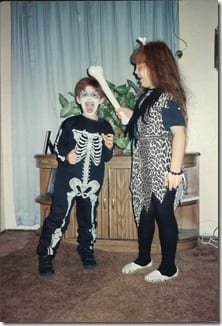 Wonder Woman
Cinderella – 8th Grade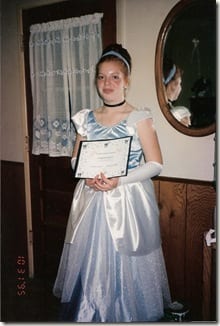 Cheerleader
It's getting late and I have grand plans for tomorrow.
See ya later 🙂
Run SMART Goals
Fill out this form to get the SMART Running Goals worksheet to your inbox!