When I ran the Disney World Marathon in January I knew it was going to be cold. To prepare I bought "throw away gear" from the Good Will. I got a sweat shirt and a pair of sweat pants that I planned to toss at the starting line.
I cut the pants up the sides and the sweat shirt up the front so they would be easy to rip off. Unfortunately, it was sooooooo cold I wanted to keep them on! Florida threw us a curveball and the temps were at record lows.  It was crazy – there were even icy spots on the ground. In Florida.
There was no way I could run with the pants – they were barely being held together with a few pieces of tape. So, I had to get rid of those. I kept the sweat shirt on the whole time and kept trying to tie it shut during the race. My hands were freezing and I couldn't feel my fingers, so that was impossible.
Why am I telling you this? Well, because I thought it was going to be cold enough for me to keep all my gear on during the Las Vegas half marathon yesterday so I wore my favorite pink long sleeve pull over. I realized before the starting gun even went off that I didn't want to keep it on. So, I threw away my favorite shirt
All the collect gear is donated, so maybe there is someone out there who will appreciate it as much as I did.
Just goes to show that I need to read the weather report a little more carefully before races. I am 2 for 2 at failing with this. Boo to me.
Lunch time! I threw together a salad and wrap combo.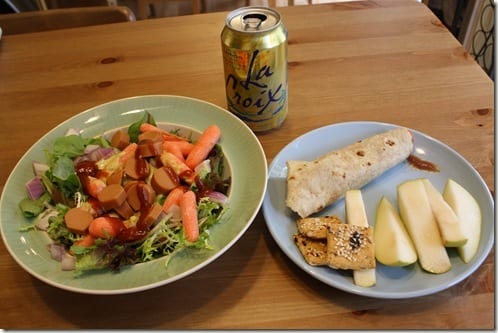 Two veggie dogs went into this lunch – one on my salad…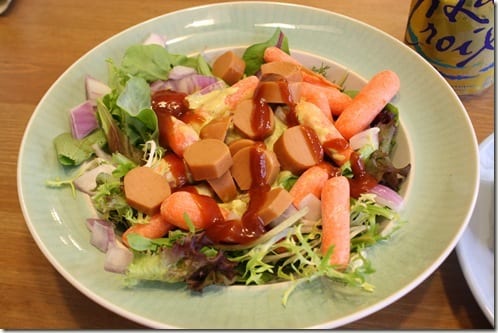 and one inside the wrap.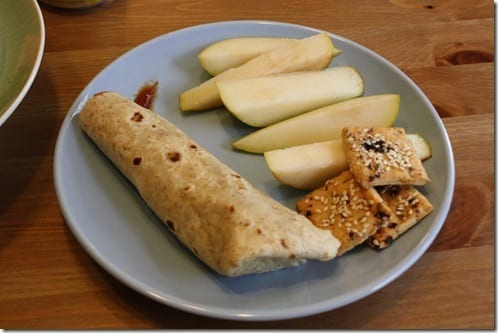 Now I'm sipping on tea to keep me awake while I read.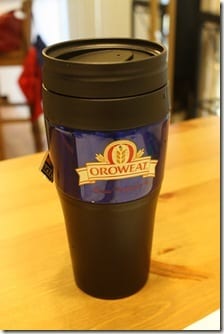 Run SMART Goals
Fill out this form to get the SMART Running Goals worksheet to your inbox!