I love chocolate chip cookies. I do. Probably more than you do.
I own a book called, "He was only a chocolate chip cookie, but I loved him". No lie.
Anyways, I wanted chocolate chip cookies tonight for dessert so I threw together a batch. In order to make them on the healthy side I used Peanut Butter instead of butter and half peanut flour to pump up the protein.
Peanut Butter Chocolate Chip Cookies for One (or two)
Ingredients:
1/4 cup Peanut Butter
1/4 cup brown sugar
1/2 tsp vanilla
1 egg
1/4 cup Peanut Flour
1/4 cup Whole Wheat pastry flour
1/2 tsp baking soda
1/8 tsp salt
1/2 cup chocolate chips – add more as needed
Directions:
Heat oven to 350 degrees.
First cream PB and brown sugar together. Then add vanilla and egg.
In a separate bowl mix flours, baking soda and salt.
Combine dry ingredients into wet. Mix. Add chocolate chips.
Scoop cookie dough onto a sprayed cookie sheet and bake for 8 to 12 minutes.
Makes 12 cookies aka 2 servings.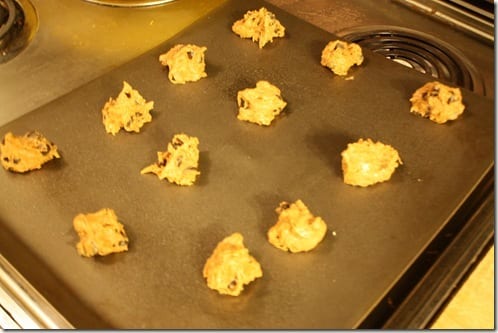 While you're waiting for them to bake practice your boxing moves with oven mitts. This will ensure the cookies are all yours.
When they're done take them out of the oven and place on a cooking rack. Or a plate. You know, if your cooling rack is still at your mom's house or something.
The recipe makes 12 cookies, so I guess if you're feeling generous you can share half of them with a friend. Six cookies is one serving. Yes. You're welcome.
They do come out a little cake-y, but all my cookies do. It's just how I make them (not even on purpose). But they're delicious, so make them anyways.
Enjoy!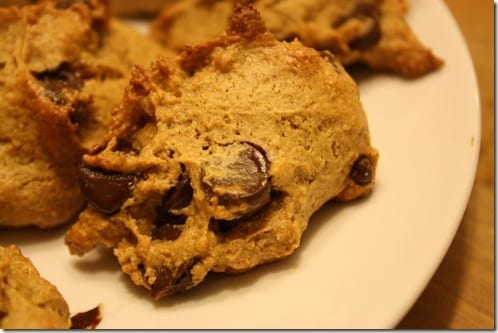 Run SMART Goals
Fill out this form to get the SMART Running Goals worksheet to your inbox!