I usually try and keep my diet 80% healthy, 20%  gratuitous deliciousness, but some days it ends up being 20-80 the other way around. Today was one of those days.
It all started this afternoon when I decided to have a "Cookie Off" to see which of the TJ's chocolate covered Joe Joe's was best.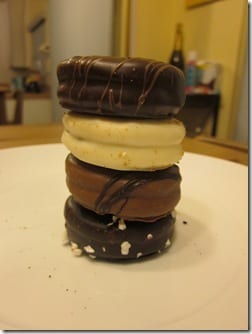 Here we have a ginger, dark chocolate, peppermint and peanut butter Joe Joe. I knew it was going to be a hard competition, but I was up for the challenge.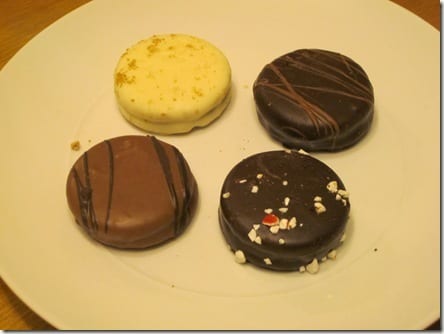 I tasted each one and took into account many factors, obviously including my own personal bias on flavors…
The winner was dark chocolate followed by peppermint. But, if anyone wants a recount I'd be happy to try them all again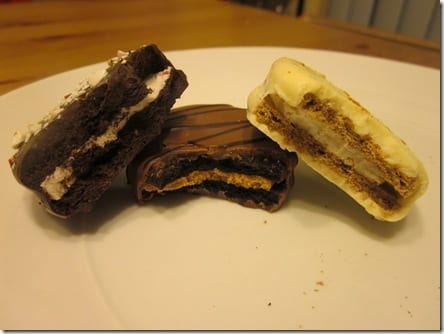 My 20% healthy food came in the form of a big salad for lunch. And then it was all cookies and Taco Bell from there.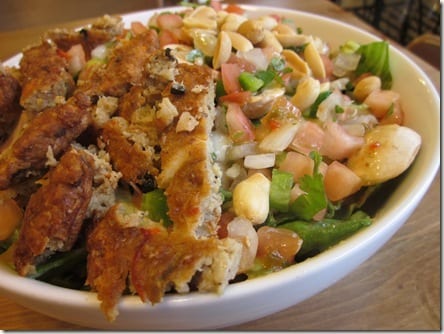 I really wanted to see "How Do You Know" so Ben picked me up after work and we went to the movies before dinner.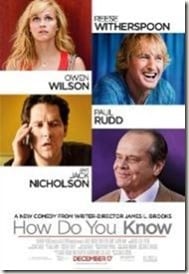 Well, I guess you can kinda count this as dinner – we shared a massive popcorn and diet Coke. Sometimes I sneak in my own snacks, and other times I realize that the smell of movie popcorn is too tempting to deny myself. I love all popcorn, but movie popcorn is the best (even if it's the worst for ya).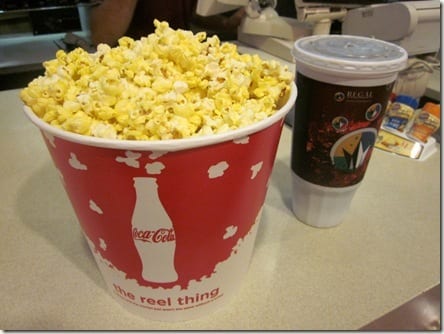 The movie was okay – not funny, but I really like Reese Witherspoon and Paul Rudd, so I didn't mind watching them on the big screen. It just wasn't funny.
By the time the movie let out it was after 8pm and Ben wanted something fast and easy for dinner. I wasn't hungry after all that popcorn, so I let him have his pick. We ended up at Taco Bell.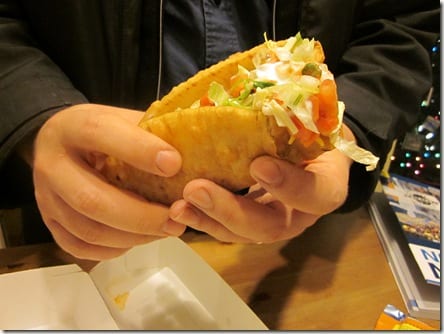 I got an order of pintos and cheese for old time sakes. I used to be obsessed with this and their bean burritos. I also tried a bite of his crazy Chalupa.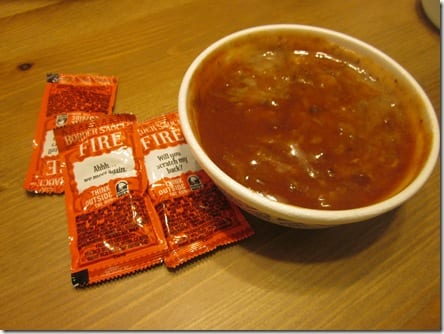 Overall, I ate a lot of what I would consider "un-healthy" foods today. It's not a big deal for me to have movie popcorn OR Taco Bell OR 4 cookies – but when I have them all in one day I have to be careful. This used to be part of an "all or nothing" / "black or white" pattern, but not any more. If this happened once a week, then I might be worried. For now I'll just get back to 80% healthy tomorrow.
Now I am trying to pray real hard that it will stop raining in time for my long run. I am thinking about postponing it, but I have to do another long run on Friday before we go out of town and I don't think I can do them that close together.
Good night!
Run SMART Goals
Fill out this form to get the SMART Running Goals worksheet to your inbox!