My mom's house is closer to LAX, so we stayed there last night. I woke up bright and early this morning to take the dogs on a walk before heading to the airport. I also managed to get in 2.8 miles of running so I wouldn't be too antsy on the four hour flight.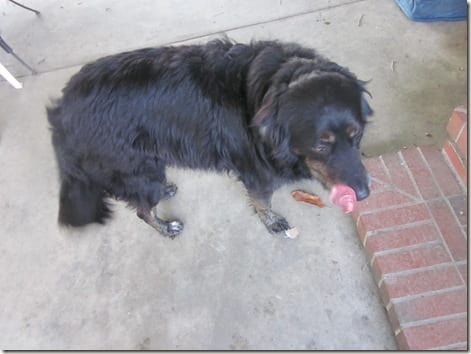 The airport wasn't as crazy as I thought it was going to be, but the line to check baggage was still pretty long. I decided to break into my breakfast while waiting. My mom bought my favorite yogurt for the trip. Merry Christmas to Me
When we got past security I searched out an iced coffee. There was no Starbucks in the terminal so I had to make my own iced coffee with a cup of ice and a hot cup o' joe. It worked. I drank it with the rest of my breakfast – cereal and a banana. I call this yogurt bowl, very deconstructed.
Christmas Eve at LAX! I was hoping for a Santa spotting, but no such luck. I guess he flies private?
We have a direct flight, so it will be a little over 4 hours to Florida. I'm glad we packed a lunch because the terminal options were slim. Even though I would have ditched this for Subway if I found one.
I packed PB&J, carrots and a Honeycrisp.  I already want to eat lunch. Why does traveling make me hungrier than usual?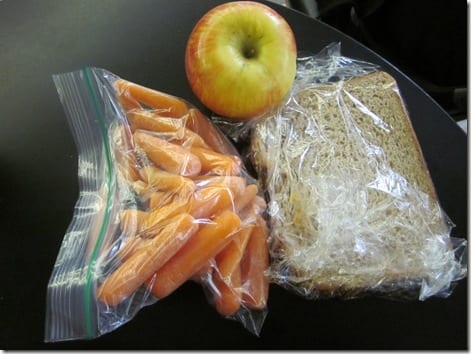 I have plenty of reading material on this trip. I just got my latest Fitness mag in the mail and haven't finished my new Runner's World yet.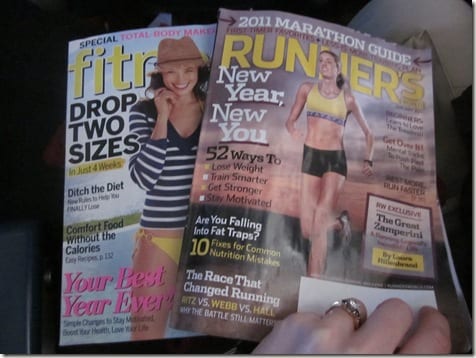 Even though, I am afraid I appeared a little pervy while looking at this ad in RW! It's for Vibrams in case you were curious.
What kind of magazine is this?!
Once we get to FL, Ben's brother will sweep us off to his parents house for dinner and presents. It doesn't even feel like Christmas yet. I better get in the spirit asap!
Run SMART Goals
Fill out this form to get the SMART Running Goals worksheet to your inbox!