Hello and thank you all for your kind words on my belly parasite (aka Ben Jr.). This morning I tried to squeeze the bugger out with a ton of ab work courtesy of Jillian's 6 Week Six Pack.
This came in the mail yesterday and I was psyched to rip into it! Today is supposed to be a strength training day (per BFL) so this will count as my strength workout as I can't get to the gym. I'm still watching Matt and he's too old to go to the kiddie care, but too young to leave by himself for that long.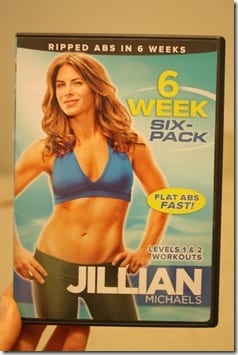 I only did the DVD once, so I can't give a full review. But my initial thoughts are:
Love it, I need a change from my very old school 8 min abs.
This is HARD. TWSS.
It moved too fast for me to keep up the first time, so I had to spend some time watching before I could try the exercises. I don't know if it's my old cheerleading days or what, but I am BIG ON FORM. She doesn't breakdown the moves very much, but you are supposed to follow her (and her backup exercisers') lead.
I think it will take 1 or 2 more tries before I actually do the whole workout with her. At that point I can assess the true difficulty and potential results.
She suggests that you do Level 1 – five times a week for three weeks and then move to Level 2. Since I just took pics and all I'm considering taking her 6 Week Six Pack Challenge! I would like to see if I really get results before I suggest that anyone else spend 38 minutes a day letting Jillian Michaels yell at them
This DVD isn't the equivalent of a BFL strength day(I realize I am slacking today), so we'll see how I can work it in . Stay tuned.
Breakfast was an oldie, but goodie – waffles and eggs.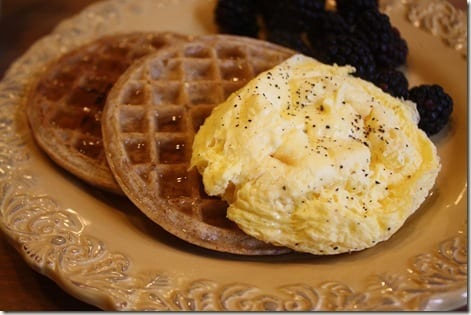 These are 2 whole wheat waffles with 1/2 cup of eggbeaters topped with syrup and ketchup. Plus some blackberries on the side because I love the way they pop in your mouth. 
Question: Did you parents ever leave you at kiddie care at the gym? Did they exercise?
I have a faint memory of going to the gym with my mom. I did not like their day care at all. Luckily, we didn't go that often. Sorry mom.
Run SMART Goals
Fill out this form to get the SMART Running Goals worksheet to your inbox!