I wore my Run, Eat, Repeat shirt to Boston. I don't know if you've noticed my complete lack of fashion sense that I try to call "California Casual", but I mostly aim to be comfortable. This shirt paired with yoga pants fit the bill!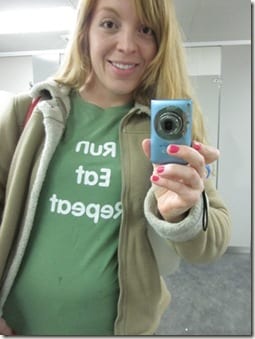 As I was going through security one of the screeners said he loved my shirt. He asked if I was a marathon runner and a surprising conversation ensued:
Screener: "Are you going to run the Boston marathon?"
Me: "No, I haven't qualified yet."
Screener: "Yet? But you're trying, soon?"
Me: "Yes, I'm going to, just not yet…"
WHAT?!?!
How do I have the audacity to even say, "Not yet." in reference to The Boston Marathon – especially in light of their new qualifying standards?
I don't know, just thought it was super random that my first reaction was confident because deep down I'm doubtful and insecure and a mess. Just saying.
Okay, after my fun screener interaction I walked to my plane. Long Beach is a tiny small airport outside of L.A. It is the way to go if you want easy-peasy. Plus, JetBlue flies out of there with direct flights to Beantown.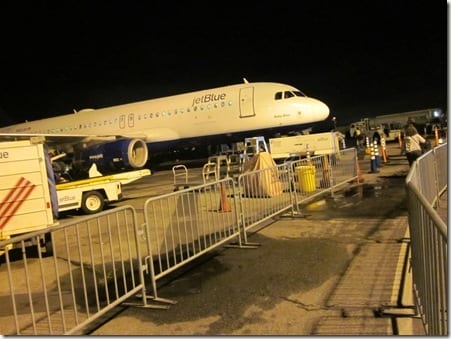 I flew the Red Eye and normally can't fall asleep on planes. Well, this time I did nod off for a bit (after my free snack in which I reluctantly picked chips instead of cookies). But I woke up with my neck pillow 5 rows up!!! I apologize to the guy in Row 11 seat D if I threw it at you.
Now I'm in BOSTON!!! Tina was nice enough to pick me up from the airport. First things first, a trip to DD!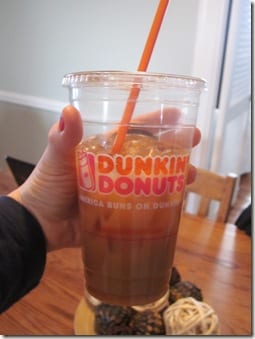 After that very important errand we went back to Tina's where I was greeted with the best gift ever = MORE Dunkin Donuts coffee from Tina!!! I may never leave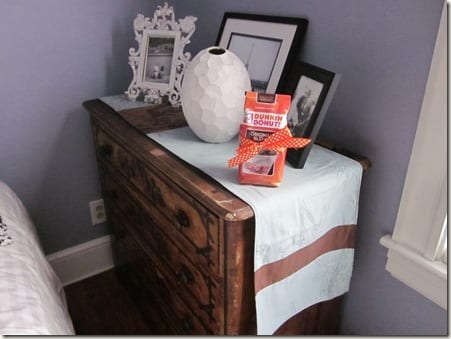 What is it about traveling that makes me super hungry? Because when I got here I was Star-ving! Luckily, Tina is well prepared with oatmeal toppings…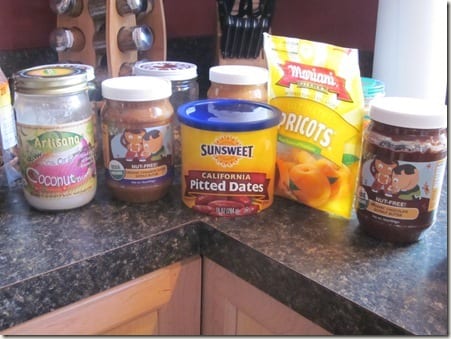 And oatmeal to to put them on! Much better.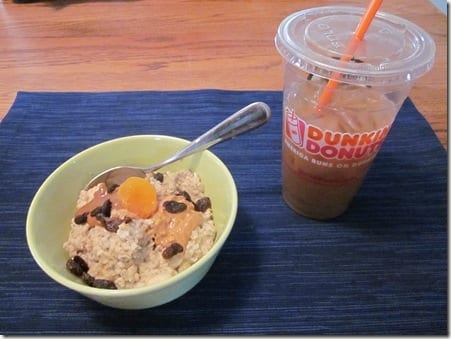 March is National Nutrition Month!
National Nutrition Month is a campaign by the American Dietetic Association to raise awareness about healthy eating in the U.S.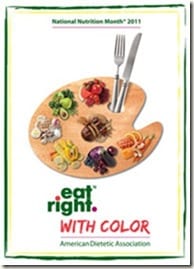 This year's theme is Eat Right – With Color. Today's tip is brought to you by the color BLUE:
Go True Blue for Nutrition

Purple and blue may not be as common to find in the average meal as some other colors, but purple and blue foods have many health benefits, including antioxidant and anti-aging benefit
This makes me want to go out and get some organic blueberries!
Question: What are some healthy blue food ideas? (Blue Kool-aid doesn't count)
Run SMART Goals
Fill out this form to get the SMART Running Goals worksheet to your inbox!