I ended up doing 8 miles and walking 1 to cool down. It is warm today and I should have brought water or Gatorade. It was rough. But, totally my fault for waiting so long and not fueling enough.
On my cool down walk I dreamt up lunch. First and foremost I wanted to finish off the guacamole before Ben gets to it. So I needed something guac friendly.
But I also wanted pasta, just because I've been craving it.
So I decided to make pasta with a Mexican twist – Refried Bean Pasta!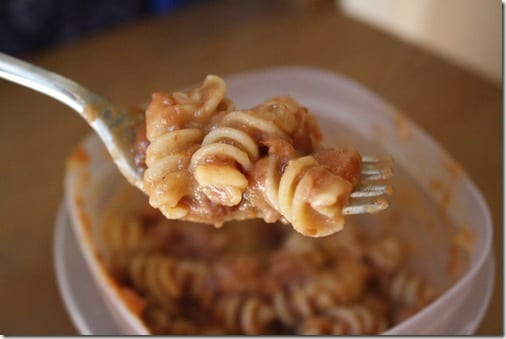 I boiled a cup of whole wheat pasta till al dente. Then, stirred it in with 1/2 cup of canned refried beans (don't tell my Grams I eat canned). Finally, I added a few big spoon-fuls of salsa and wa-la!
Creamy Bean Pasta
I poured it on a massive salad with embarrassing amounts of guacamole.
Dessert was this YoGreek yogurt I got at the Expo this weekend.
I love that it comes with granola! But, I added some more because I like love granola a lot A LOT.
Intuitive Eating stuff: I overdid it on lunch a bit because I'm overly full now. I think this is partly because I didn't eat enough before and felt overly hungry going into lunch.
If you start off eating when you're too hungry, it's hard to stop before you're too full. I think I need to go back and find my notes on the hunger scale. Since I've been failing in this aspect of Intuitive Eating lately.
Anyone else think it's supposed to be equal parts yogurt to granola?
Run SMART Goals
Fill out this form to get the SMART Running Goals worksheet to your inbox!