I had an appointment this morning and made a pit stop for some refreshments on the way home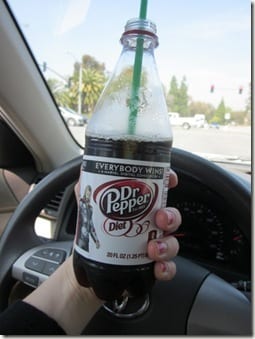 Lunch was a little on the early side, but I had that TJ's Spicy Ranchero Egg Salad calling my name in the fridge. For some reason I prefer these in a wrap instead of bread.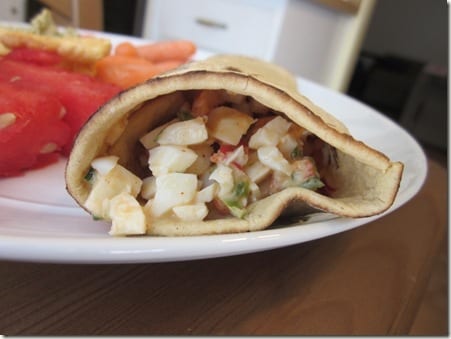 Served with three different sides – carrots & hummus, cheddar soy crisps and watermelon. The watermelon was an impulse buy, but good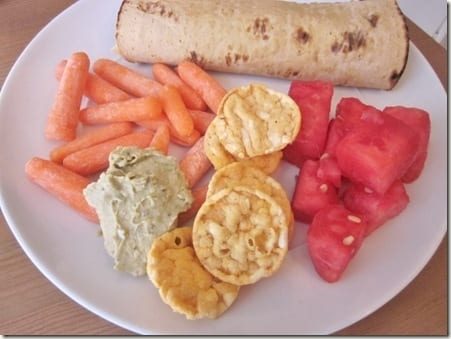 The whole plate – needs some green, but still very colorful!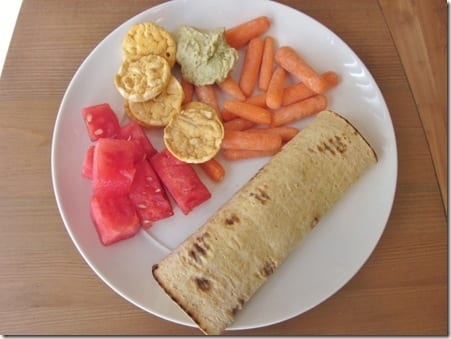 I am totally digging my new water bottle. I think I may be drinking a little less though, since the straw slows me down. I need to keep better track.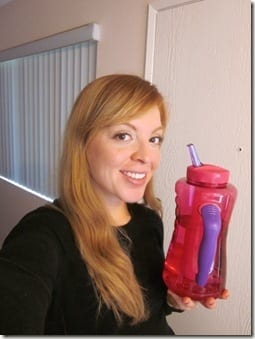 It's time for a Running Joke!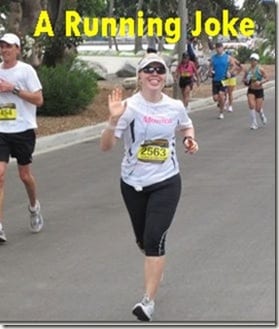 From Jennifer: One time I was running on a bright sunny day.  A lot of runners were out that day.  I had just put my running clothes on from my clean laundry basket before heading out.  I was about a mile into the run, when I noticed and felt my left pant leg felt bulky.   I kept running and figured my pants must be bunching, but then I noticed that now the bulk was by my ankle.  I stopped and reached down and pulled out a pair of (clean) thong underwear
!
As I looked up and started to run again, there was another runner (man) running in my direction, just about to pass me.
From Melanee of Looking In the Mirror: Well, back in college I had to take so many credit hours of exercise science. So I decided that I would take a jogging class (remember my effort to become an avid runner). The class was at 7:00 am. Which was just a bad idea all around. We only met once a week. Most of the time we just ran and kept track of our progress on our own. I was running late one morning and needed to get to class in a hurry. I slipped on a pair of my husbands shorts (who is much larger than me) and a pair of my sweats. I hopped on my bike and barely made it to class on time. I doubt I even brushed my hair. After a little pep talk and some business at the beginning of the class our professor instructed us to leave our extra gear and head outside, we were doing hill sprints (yippee). So I pulled down my sweat pants and started talking to one of the girls in the class that I had just met and was making friends with. She gave me a rather embarrassed look and quickly headed outside. I bent down to get my pants off the ends of my shoes when I realized that not only had my pants gone down, but so had my shorts. I was standing there in my undies. I quickly pulled everything back up and looked around guilty. I'm sure some people noticed (I'm sure some of the guys in the class noticed, my new friend obviously had). I took a deep breath and tried again. Yes, I stayed for the rest of class. Yes, I went back again. In fact, I was laughing so hard about it when I called my husband immediately after class that I couldn't even tell him what I had done. All I can say is, at least my underwear stayed on. And now that I think about it, maybe it was a sign that running and me were not meant to be. Maybe.
From Gavi of Gavi Gets Going: Last weekend, I ran a trail 30k, and there were only three aid stations.  When I reached the last one at mile 15, all I could think about was SALT.  I'm gluten intolerant so the pretzels were a no-go, but as I slowed down at the aid station I noticed that there was a big bowl of salt just sitting there.  Without even thinking about it, I licked my finger and stuck it in the bowl, pulled out a big finger full of salt, and put it in my mouth.  The volunteer just looked at me for a moment and then said, "Oh.  I guess that's your salt now."  Woops!
If you have A Running Joke you'd like to share email me – runeatrepeat at gmail dot com!
Run SMART Goals
Fill out this form to get the SMART Running Goals worksheet to your inbox!