I get veggie burgers all the time, but prefer the ones that are more like fake chicken than fake beef. When I spotted these Quorn Turk'y Burgers I was excited! My mom used to make us turkey burgers as a kid and I remember really liking them!
I really like Quorn's ingredients, but this patty was super small compared to the big veggie burgers I've been eating. (I get mine at Costco these days.) Plus, they're pretty expensive.
Since the patty was small, but my belly is not – I added it to a salad along with chickpeas and hummus. I'm sure there's some green under there somewhere (in the form of old dried up lettuce).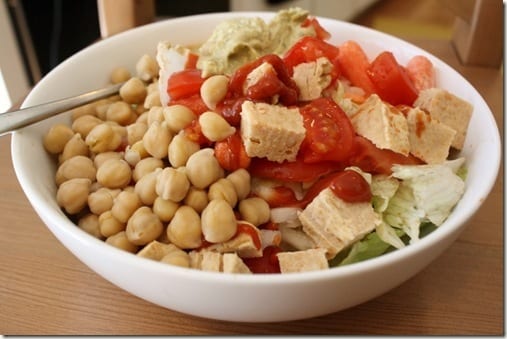 I considered toasting up some bread to go with it, but Ben had these chips out and I went at 'em. They don't have enough salt so salsa was required.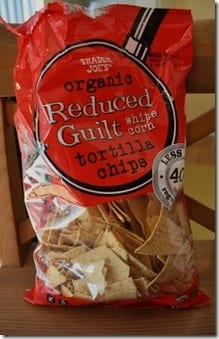 And some grapes!
I added a pickle at some point because I was craving one.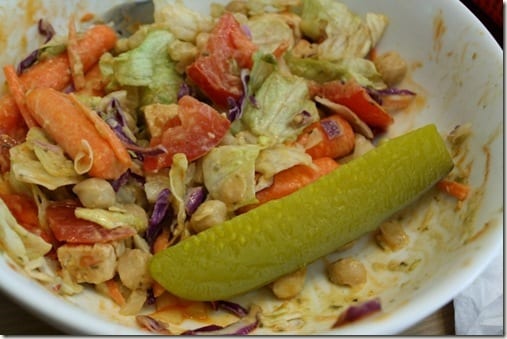 But, I think the pickle and chips made me super thirsty because I can't stop drinking water! I got sick of holding up my water bottle and set it on a candle. This was a lot easier than finding a longer straw
  Now I can drink and write at the same time!
This picture is so tragic…
In other hypochondriac news, my eye lids hurts. No, I'm not joking. The part of my eye right at my lash line is super sensitive. I don't have pink eye or a sty or anything at all visibly wrong with it except a little swelling.
Any advice or do I have to be a pirate for the rest of the week?
Arrrrr! I'm bad at winking…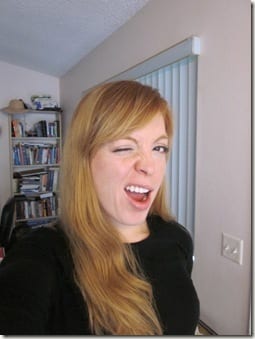 Run SMART Goals
Fill out this form to get the SMART Running Goals worksheet to your inbox!