Tonight I met up with some fun runner girls for dinner and a movie!
I got an email from a PR rep for My Run a few weeks back, but it fell off my radar until I realized it was being played super close and some fellow runners were going to see it!
My Run is a documentary about Terry Hitchcock, a man who runs 75 marathons in 75 days – amazing, right?!?!  His goal was to bring attention to single parent households and how those families are affected.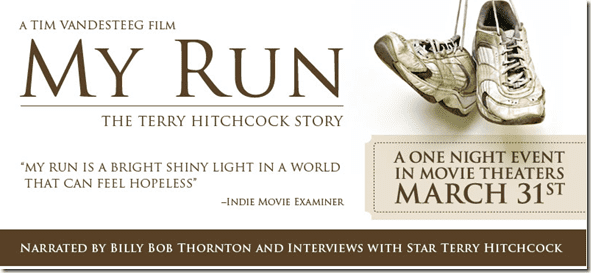 It was a good movie, but not the best running movie I've seen. The story starts with a family background and focuses on the struggle of his journey. It's not super inspiring in terms of getting pumped for a race. Since it doesn't focus on the details of running or training it would probably be good for anyone, not just runners.
My favorite running movie is still  Spirit of the Marathon. I saw the Hood To Coast movie recently too
Before the movie we had dinner at The Veggie Grill. I don't think I was a huge fan of what I got last time, but LOVED this salad!
I got the Veggie Grill version of a Chopped salad and everything from the tempeh to the chipotle ranch rocked!
Since I didn't want veggie steak they gave me extra tempeh on the side.
Then, Pam, SkinnyRunner and Sarah and I hit up the movie. We passed snacks of course, but the pics were way too dark to show.
I'm currently chomping on a handful of PB Puffins and considering going to sleep or watching trash TV… decisions, decisions.
Run SMART Goals
Fill out this form to get the SMART Running Goals worksheet to your inbox!