Hello Friends
How's your Friday?
I was really craving a sandwich for lunch, so I made sure to get "real" bread from Costco. Sometimes a sandwich thin doesn't cut it, ya know? Having a real bread sandwich isn't what got me ten extra pounds. Eating ten pounds of ice cream did.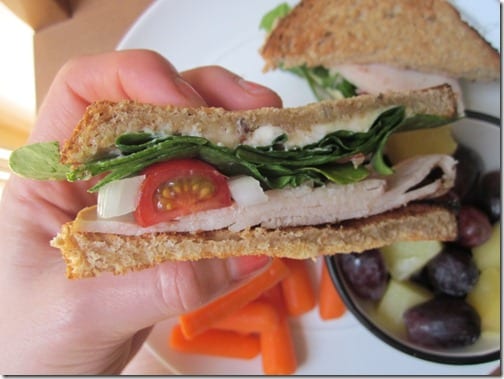 I paired it with carrots, fruit and some stolen baked Cheetos from Ben's plate
We dipped the carrots and Cheetos (and our sandwiches actually) in this new Costco find – Jalapeno Yogurt Dip.
These nutritionals are better than hummus! And it's dee-lish. Score!

It's Fitbloggin Friday! Today we're talking to Josie from Yum Yucky.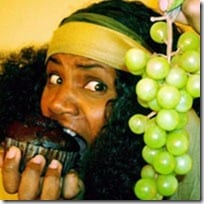 1. How long have you been blogging?

I started blogging in January 2009 to stop being lazy at night and keep
myself from falling asleep 7pm. I needed a hobby! Things took off fast
after only a few months and the happy-insanity has been going on ever
since.

2. What topic are you speaking about?

My session is called: "From Hobbyist to Professional: Take Blogging To The
Next Level". This is a joint session with @NoMoreBacon, @PriorFatGirl and
@ShePosts. Full session deets is on the Fitbloggin website, here.

3.  Why do you think this is an important topic?

If there's anyone out there like me, you might find yourself blogging in
more of a pro capacity even through you didn't plan on it. Blogging is
definitely still my hobby, but it's also morphed into a paying gig. There
was so a hard learning curve when the pro aspect first came into play. I
remember reaching out to some people for help (in another well-established
blog niche), but I couldn't get the guidance I needed, so I resorted to
trial and error. Even with help, trial and error will still come into
play, but as a blog community I think it's important that we support each
other and help the next one succeed. This is why the topic is so
important. I also have an open door policy. I always give anyone help,
tips or guidance if they knock on my email inbox asking for advice.

4. You went to Fitbloggin last year – what was your favorite part? Connecting with the people is definitely my favorite part of Fitbloggin
and always will be. I love the energy in the place, the connections and
friendships that are born. This is what I look forward to most.

5. Anything else you want to add about yourself??

I might wear my afro wig to Fitbloggin. What do you think?
We're only two weeks away from Fitbloggin! Next Friday I'm going to do a Flashback post on Fitbloggin last year. If you attended and did a recap please send me the link if you want me to include it!! My email is Runeatrepeat at gmail
Run SMART Goals
Fill out this form to get the SMART Running Goals worksheet to your inbox!