Hello
I started my day with a little walk with Ben. It used to be so difficult to get him to walk with me, but now that he's been running it's no biggie and I love it.
When we got back I grabbed a piece of bread with PB&J
Then, I made a quick breakfast sandwich. Toppings include Laughing Cow cheese, buffalo sauce and ketchup.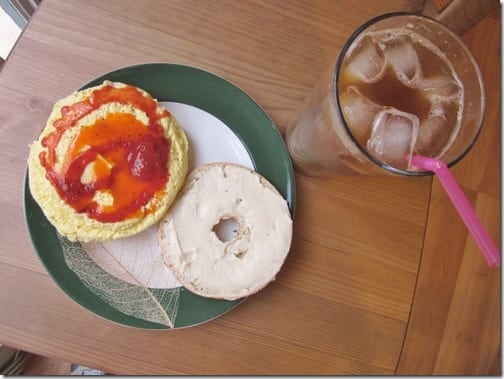 I think another 2 glasses of iced coffee will round out this breakfast
It's so weird that I worked at Starbucks for 2 years during college and did not drink coffee at all.  Each week we would get a free pound of coffee and I would give it away to family. Now that I've discovered iced coffee I am sad to think of all that deliciousness I gave away…
Monday Mini Goals for 5/9/11
Only eat protein-y snacks (I've been over doing it on the bread and cereal and Vitas…)

Try a new class at the gym

Stay positive. Choose to be happy.
Question: Where was your first job?
Mine was Starbucks 🙂  I have very good memories of opening at 4:30am (I'm a morning person and my co-opener was a BFF), making out in the back room great friends and falling in love for the first time <3
Run SMART Goals
Fill out this form to get the SMART Running Goals worksheet to your inbox!