It's Three Things Thursday. Here are three excuses I have…
1. I drank a massive smoothie on the way to work. Note the sopping wet hair and lack of make-up. My excuse: I was on Mexican time running late (when in reality this is a daily look/occurrence).
2. Lunch involved MASSIVE amounts of Cheetos croutons and dark chocolate melted on sunflower butter bread.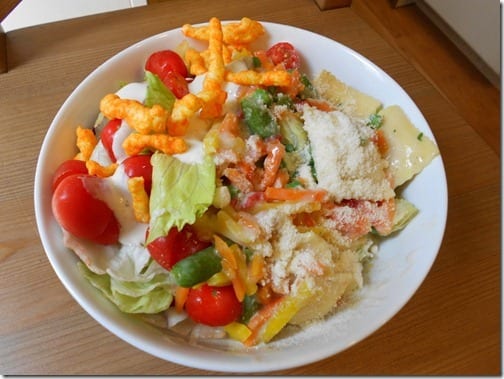 My excuse: Life without Cheetos and chocolate is for people who hate themselves. I mean, stress.
3. I drank a Vitaminwater while out running errands. Notice that I still haven't brushed my hair or put on make-up. Nothing a little rubberband and sunglasses can't hide fix, right?
My excuse: It's hard to do your make-up or brush your hair when your fingers are covered in powdery Cheetos deliciousness and melted chocolate.
Don't Forget!!! Tomorrow at 3pm EST/12pm PST (for my CA peeps) – It's the #OBandFitblog Flashmob
If you want to play:
Share an Operation Beautiful inspired quote on twitter or FB with the hashtag #OBandFitblog
You can create your own quote or get inspired by some of our ideas:
"You are stronger than you think" #OBandFitblog
"Treat your body like it's amazing!" #OBandFitblog
"Live a beautiful,healthy life!" #OBandFitblog
Run SMART Goals
Fill out this form to get the SMART Running Goals worksheet to your inbox!