I am completely obsessed with broccoli slaw stir-frys for lunch. But, today I changed it up and seasoned it Mexican style.
The main event was Soy Chorizo. I can often find Soy Chorizo (the legit brand too) at the 99 cent store. I'm not fancy, remember?
I cooked the broccoli slaw, onions, mushrooms per usual – then added the chorizo. Finally, I added eggs and seasoned to taste.
Served with beans and a tortilla. This is one of my salad buckets, so it's hard to tell but it's a lot of food!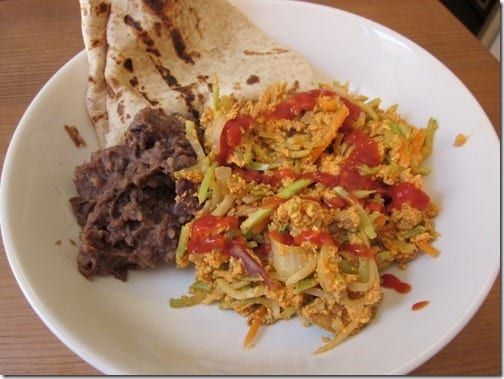 I do not consider myself a "Type A" person, but have always thought of myself as "high strung". I worry about everything. Everything. Recently I have been trying to be better about saying, "I am worried about xyz" or "This makes me sad". I'm sure the checkout lady at the grocery store is creeped out by it, but I have also been trying to express myself to my friends and fam like this.
I'm hoping it helps me be less of a bitch identify how I feel or what I'm worried about instead of distracting myself with food.
Question: What's worrying you today?
I would list out all my worries, but I'm sure you have places to go, people to see…
If you're worried about something watch this video – a kitten is having a bad dream and the mommy does something about it…You'll die of cuteness.
Run SMART Goals
Fill out this form to get the SMART Running Goals worksheet to your inbox!