It's June 1st and time for me to reassess my 2011 Resolutions. For the last few years now I review my resolutions mid-way through the year and either get back on track or realize I am sinking and abandon ship.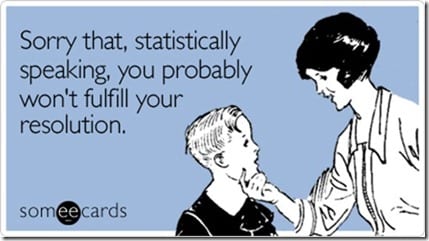 1. Run a sub-four hour marathon.
Update: Not yet. A big part of my plan to get faster is to lose weight. I ended up quitting my attempt at Body For Life because eating every 3 hours was making me a little too obsessive. But, I did increase my protein intake and feel  a lot better!
I am going to focus on a higher protein mostly vegetarian diet for the rest of the year. Going forward I'm recommitting to 2 things to get these last 10 pounds off:
1.  Only eat when Hungry – focus on Intuitive Eating. As in, eat when I'm at a 2 or 3 on the hunger scale and identify fatigue, stress, loneliness.I have to be ALL IN with this for it to work.
2. Plan 1 healthy snack for the afternoon. I am never hungry for dinner. Ever. This is because I feel a little hungry and ruin dinner with a big snack. Every day.
Training wise – I'm going to start my marathon training program in a week and a half! Ah! So you can follow along with this journey
2. Make RER better.
Update:Nope, still just another random blog by some girl who loves ice cream and taking pictures of her cat. Sorry internet.
Just kidding
 RER has already hit all my 2011 goals!!! Thank you for stopping by. Seriously, I'm so happy about this! Thank you for reading, every comment makes me smile (except for the ones calling me a c-word).
So, does this mean I can take the rest of the year off?
3. Save Money
Update:Not yet. I barely got a job as a Personal Trainer and am just starting to make money.
When I re-read this goal to Ben last night he agreed we need to do some financial planning this week.
4. Run in 6 Different states.
Update: I should have specified that I wanted to run a race in 6 new to me states, but since I didn't I guess I can count any out of California runs?
Run: in Florida while visiting Ben's fam.
Race: RnR Arizona
Race: Massachusetts Black Cat 10 Miler
Run: Maryland for Fitbloggin
I'm considering RnR Savannah still and need another new state run. Any suggestions? Can I stay with you??
5. No diet soda
Update:FAIL. Yes, major major fail. But, I am back on the wagon now!
6. Relationship Resolution: One date night a week.
Update: I totally forgot I was married until just now. No wonder everyone looks at me weird when I say, "My roommate Ben…"
We haven't been going weekly, but we have been making an effort to turn off the computers and realize we live together. I'm a huge fan of that guy so we should probably hang out more
Question: What were your resolutions? How are they going?
Run SMART Goals
Fill out this form to get the SMART Running Goals worksheet to your inbox!