Hello and Happy Monday
Yesterday I held a Pita Party courtesy of Electrolux's "Are You Party Ready?" campaign. A week ago Foodbuzz sent out an email asking for last minute party tips. Here is mine:
"My last minute party tip is to assess the ingredients you have on hand and try to work with them. Make something simple. Also, try to make something that can accommodate different taste buds without too much work."
I think EVERYONE loves pizza and if you don't you're probably not coming to my house anyways so my last minute party meal is Pita Pizzas!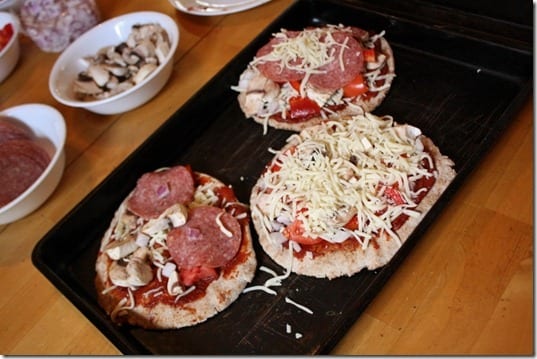 As you know, I'm not Fancy – and luckily my last minute guests don't expect me to be, but this meal is still delicious!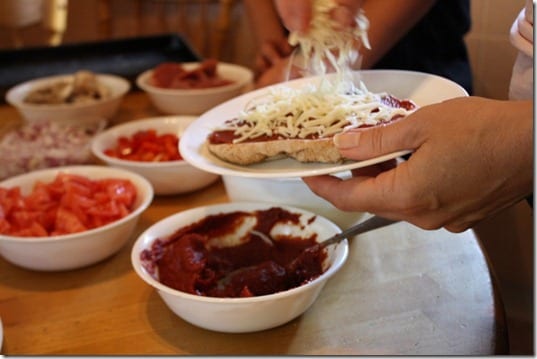 I set out a toppings bar so everyone can make their own pita pizza. This is an easy way for everyone to get what they like and leave out with they don't.
I worked with the ingredients I had on hand too – I pretty much always have salad veggies around, but today they were repurposed for pizza toppings.
Guests of all ages love pizza! Plus, getting everyone involved in the process helps socialize the group.
Random Pita Pizza Tip: I put my toppings under the cheese so they don't fall off.
Easy and fast – I popped the pita pizzas in the oven until the cheese was melted and they were done within 10 minutes.
Second random tip: Feel free to eat the rest of the toppings once everyone's pizza has been built
I also made the world's quickest dessert with instant pudding and a ready made pie crust.
Served up with blueberries – unfortunately, it looked better than it tasted.
Quick fix – I offered everyone ice cream (something else I always have on hand). Ice cream makes everything better
This morning I had a 7am client so I hit up the gym early to get in a strength workout for myself. Fuel for the journey – SB&J (sunflower butter and jam).
I was there until about 10:45am and came home HUNGRY, but didn't want to eat lunch that early. So I made a smoothie and ate some watermelon to hold me over.
I'm headed to Florida on Wednesday night – not sure if I mentioned that yet! So, I have a ton to do before then!! I will still be blogging regularly while away, sorry you guys don't get a vacation from me that easy
I have a massage scheduled for this afternoon and 2 fitness assessments for later too. I'll see you in a bit!
Question: What's your favorite pizza topping?
I love tomatoes, mushrooms, bell peppers, but if I had to pick 1- I'd probably go with onions.
Run SMART Goals
Fill out this form to get the SMART Running Goals worksheet to your inbox!