I get deliveries fairly often, but today included two particularly great ones!!!
I don't know if I mentioned it here, but my Bodybugg died last week
I called the company and a customer service rep tried to walk me through a few ways to fix it. We tried 3 different things, but it still wouldn't work. (I'm pretty sure my sweaty armpit killed it.) So, they sent me a UPS label to return it!
My new one arrived today! I haven't been wearing it too consistently but with my job and marathon training I want to know how many calories I'm burning on busy days so I'm going to try and wear it at least for a solid month to get an idea.
"Bye old fridge, we had some good times… like when I would stand in front of you picking at leftovers or eating ice cream straight of the carton. I'll miss that."
Our new fridge finally arrived today! I basically got the cheapest one my dirty green paper could buy.
I figure – save money on the fridge, spend money on the food inside it!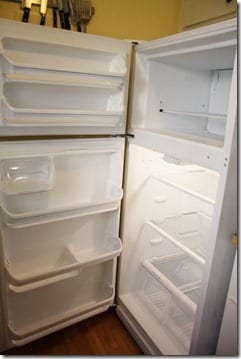 Once it was delivered I had to rush out the door for a 5pm appointment at work. I got home around 7:30 and ate dinner faster than I could whip my camera out. It was some organic hamburger helper kinda thing. Eh.
I think I'm going to end the night with a sunflower seed butter and chocolate chip treat – I'll see you in the morning
Run SMART Goals
Fill out this form to get the SMART Running Goals worksheet to your inbox!