Yesterday on the drive home from San Diego I read Valerie Waters' book and contemplated her advice.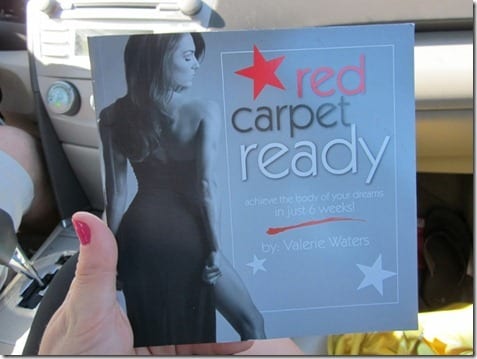 During my consultation she told me I probably had no idea what/how much I'm eating. I dismissed this in my head because 'hello, I'm a FOOD BLOGGER'. I take pictures of my food – how do I not know what I'm eating?!
Yeah, she is right. I actually don't know, because so much of it misses the blog as "bites or tastes". Yesterday I had a few handfuls of chips, several bites of Ben's pizza at Costco and a taste of his polish sausage
(TWSS!). Ha.
The evidence.
And dinner was my fave peanut sauce salad.This never misses RER because I love it so much.
This morning I was happy that my training plan only called for 4 miles. Done and done.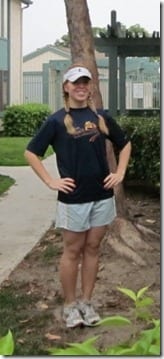 Running tip: If you have a tendency to clench your fists really hard during a run…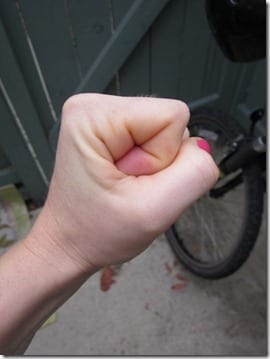 Try to make the "okay" sign with your hands instead.
Or just leave space for your hand to breathe.
And here's "Exhibit B" of food I eat that normally misses RER – finishing off the sunflower seed butter while cooking breakfast. I'm not saying this is super bad since there wasn't that much in the jar and my breakfast is fairly low in calories today. The point is I'm not accounting for it so I think I'm eating less than I actually am. Then, I make up for it at night because I feel like I deserve it. Make sense?
Breakfast was eggs scrambled up with salsa and toast. One piece had PB&J the other was butta and stevia/cinnamon.
I had the most awesome weekend at Blogher 2011!! In case you missed it…
Met Bob Harper and Valerie Waters  Saturday
Had dinner with Manisha Thakor
Question: Have you ever met a celebrity? Who?? Who would you want to meet???
Run SMART Goals
Fill out this form to get the SMART Running Goals worksheet to your inbox!