Since I ate breakfast at 6:45am I was ready for a big snack (or possibly lunch) at 10am when I got home from work. I heated up leftovers – spaghetti on the bottom and egg scramble with broccoli slaw on the top.
I wanted to call this a snack, but kinda feel like it's more of a meal. I think I'm going the way of some and doing "Meal 1, 2, 3…" instead of "Breakfast, Lunch, Snack…" these days!
A little later the watermelon in the fridge was calling my name. That's the bad part about working from home – constant access to a full kitchen of good stuff!
"Lunch" (or should I say Meal 3?) came around noon – a big salad with veggies, turkey, peanut dressing and peanuts.
I think adding peanuts to this salad took it to another amazing level. Went a little crazy with the green onions, but I'm not looking to make any friends today (or at least that's why I tell myself I don't have any).
I got a bunch of these Caltrate calcium chews at Blogher, but they're all vanilla flavored. Really wish it was chocolate, because I eat them as a treat not for the calcium-ness.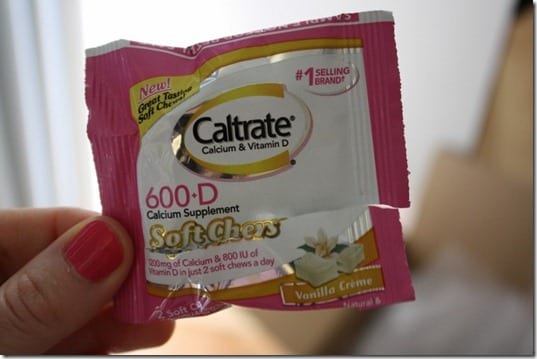 Run SMART Goals
Fill out this form to get the SMART Running Goals worksheet to your inbox!