I only had one 11am client this morning so after that I headed to the store to stock up on food. Apparently, Ben did some grocery shopping this weekend, but it consisted of Skittles, Bacon, Fiber One Bars and Juice Beer. I'm not lying.
And apparently he thinks we keep the Skittles supply on the nut butter shelf. Wonder what snacks he was cooking up while I was gone?!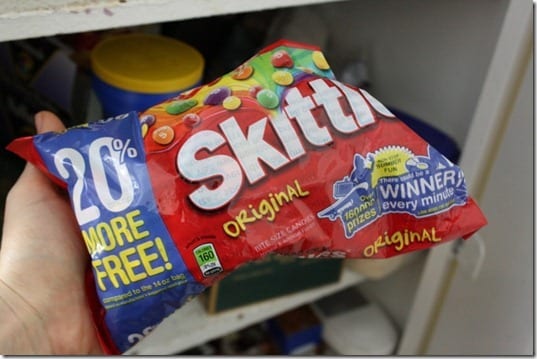 I was shopping while hungry, which is a big mistake and ended up eating a pound of grapes on the way home. It's okay, I like my grapes like I like my jokes – dirty
I made a big salad for lunch with coleslaw, peanut dressing, onions and left over stir fry from Thursday night.
Hope the 4 day old stir-fry doesn't come back to haunt me for my afternoon shift!
And I had a Fiber One bar as dessert. It is so random that Ben bought these, but I like them even though they're not "real food" so we'll eat 'em.
Healthy Living Summit was my 5th blogging conference!
I went to Fitbloggin and Healthy Living Summit last year.
And Fitbloggin, Blogher and HLS this year.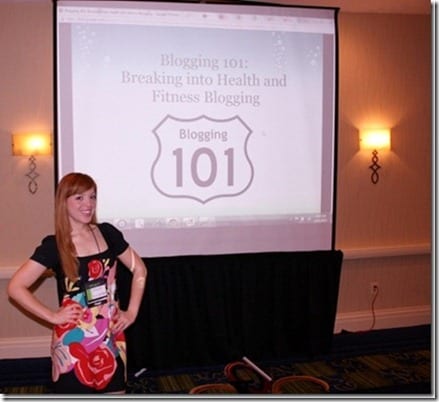 After each one I get a lot of questions from readers & other bloggers about them. So here are a few of the FAQs:
Q: How do you find out about blogging conferences?
A: I find out about them though social media most of the time. Once someone who is on my twitter or Google Reader talks about one I'm not familiar with I look into it to see if it fits with my interests.
Q: Do you have to be a blogger to attend?
A: No! Definitely not for Fitbloggin or HLS at least. I did a session on "Blogging 101" at Fitbloggin. It was geared toward people who don't have a blog or are just starting out.
I know the Healthy Living Summit had many attendees that don't have blogs too.
Blogher is mostly geared for those that already blog.
Q: Did you contact American Express to get sponsored for Blogher?
A: No, they contacted me and offered. I already use AmEx regularly so it was easy for me to say "yes!". If it was a company I didn't believe in I would really think about it.
Q: What if I don't know anyone that's going?!
A: There are a lot of people who don't know anyone else going into a conference. The first conference I went to was Fitbloggin last year and I only knew 1 person. I was super nervous! But, now everyone that I met last year and this year are good friends of mine!
If you have any other questions please ask in the comments.
Run SMART Goals
Fill out this form to get the SMART Running Goals worksheet to your inbox!