Hello and Happy Friday! Ben and I are going on a road trip in honor of his birthday this weekend so I had to change my long run schedule.
Yes, I run dramatically and with a goofy smile like this…
My plan had me running 14-16 miles today(!), but I have to be at work at 9am and didn't feel like waking up at 3am. So, I decided to just cut it back to 8 miles and give myself a break.
I was a little worried this would really mess up my marathon training plan, but I remembered that I normally take this week off of running every year!
Ben and I celebrate our anniversary and birthday this week every year. Last year we were in Curacao.
You can read about it here…
The Ostrich Farm and Hato Caves
The year before we were in Belize.
The year before we went on a booze cruise!
Anyways, this is my week off from running so 8 miles is pretty hard core
After my run I made pumpkin protein pancakes because I have a ton of pumpkin to use up!
The batter: 1/2c egg beaters, 1/3c pumpkin, 1/3c oat bran (you can use  flour), dash salt, baking soda, baking powder, pumpkin pie spice and packet of sugar or stevia.
I sprinkle the chia seeds on while cooking.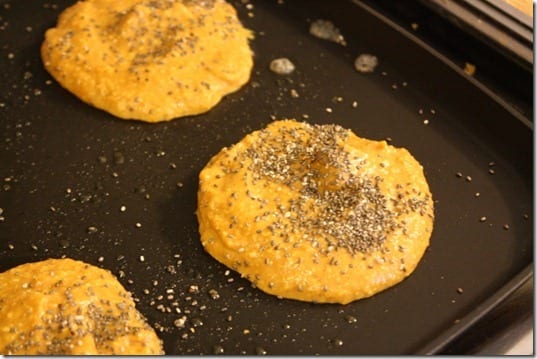 It's Flapjack Friday! Make some pancakes for dinner
Topped with a yogurt, syrup and pumpkin mix.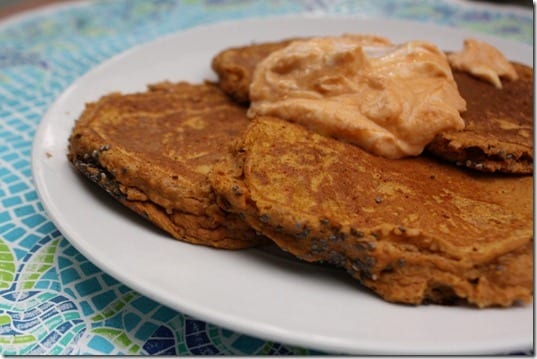 Okay, I've gotta go!
Question: Do you take an annual trip? To where??
Run SMART Goals
Fill out this form to get the SMART Running Goals worksheet to your inbox!