Hello! How's your Wednesday going?! I only have one afternoon client so my day has been quiet after this morning's work and 2 breakfasts
I am totally a morning person though and love the morning shift. I actually feel better all day when I'm up and at 'em early!
I missed my lunch salad bucket yesterday when I forgot to pick up Rebecca romaine. So, I made a special trip for it on the way home last night. The protein component of today's lunch was a leftover turkey burger. I heated it with onions to make them a tiny bit milder (especially because I use half a pound!).
I left that on the bottom and piled greens, dressing and chips on top! Size does matter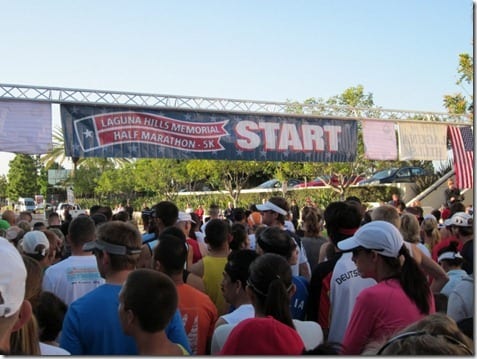 I am only a week and some days away from my marathon (F word!) and thinking about my race pace and goals and pacers. So, this question I got from a reader today is perfect timing…
I am running my first half-marathon in 11 days (October 9) and was wondering what your thoughts were on pace bunnies or pacers?

I discovered on the weekend when I ran a 10K fun run that I have a tendency to get caught up in the craziness of a crowd and therefore started way too fast and fizzled at the end. There will be pacers available for my race (the Okanagan Marathon in Kelowna, BC, Canada) and I think it will be wise, at least at the beginning of the race, to stay with a group. Have you ever followed a pacer or pace group in a race before? Thoughts?
I am notorious BIG for starting out too fast! And I don't just do it with the crowds on race day – I start out too fast on many many long runs too
So, I totally believe in pace groups and think they're awesome. Last year at Long Beach I lined up by the pace group I wanted to stick with before the start.  I got too excited and just took off away from them after the gun. Turns out they caught up with me at mile 17 and proceeded to pass my broken down azz tired legs. I might have been able to stay with them if I wouldn't have went out too fast, I will never know for sure – so there's that.
But, I am a solo runner. It's just a weird Rain Man quirk I have, so running with a pace group (or anyone else ever) is foreign to me. However, I am considering running with a pace group for my next race. That final decision will come on race morning, depending on how I feel.
Have you ever used a pace group? Had someone pace you in a race?
Run SMART Goals
Fill out this form to get the SMART Running Goals worksheet to your inbox!