Yesterday on my failed pumpkin butter expedition I picked up an new-to-me bar of TJ's dark chocolate. This thing comes with 2 bars inside – love that.
One for you, one for me.
It's super dark and decadent. The bars are on the thin side, which I appreciate because it seems like more, ya know?
********************************
Yesterday was all about rest, recovery and life contemplation. I have three big goals for 2011 and managed to cross one off the list on Sunday
Yes, running a sub-4 hour marathon was #1 on my list. And even though I barely did it, I did it. Emily from Sweat Once a Day managed to capture a picture around 20-something. Note: I'm not smiling, I'm gritting my teeth through the pain…
And now I have to focus on my other goals. I made a bunch of 2011 Resolutions, but my main three goals were a good Marathon, Weight loss,  and Improve RER.
It's time to get serious and honest with myself. There are only 82 days left in the year and I want to use them wisely. I don't need to complete my goals 100% to feel successful, but I want to end the year feeling like I really tried.
A week ago I mentioned a doing a 90 day challenge for the end of the year, but opted to focus on the marathon first. Now I have 82 days to work with and I will
I know making goals S.M.A.R.T. is the key to success, so I'm revamping them a bit to make them more Specific, Measurable, Attainable, Realistic/Relevant and Time Sensitive.
For the weight loss goal I will not snack at night and strength training 3x a week. The night time snacking thing is something that goes back since high school, so it's a very tough one for me. If I get through the rest of the year without it I will be beyond proud of myself. That alone is my measure of success, but I will update the weight loss page once a week through the end of the year.
I also have a few races coming up(!) and will do at least 1 speed or tempo session each week (starting next week sometime for recovery).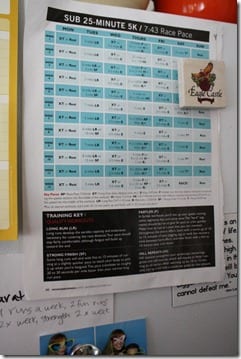 For the blog improvement goal I'm going to try and suck less.
Also, I am coordinating the annual Pile on the Mile Challenge this year (announcement later this week). I really hope it turns into an opportunity for us all to help each other stay positive and healthy in November.
So there are my goals and plan of action for the rest of year – did you make 2011 goals? Have you checked in with them lately?
Run SMART Goals
Fill out this form to get the SMART Running Goals worksheet to your inbox!