I sampled TJ's pumpkin ice cream the other day and wasthisclose to buying it. My freezer is already over flowing so I opted out. But, I was on a mission for pumpkin ice cream so I made my own…
I mixed Oikos frozen yogurt with pumpkin, splenda, pumpkin pie spice and a splash of milk. Blend. Add toppings.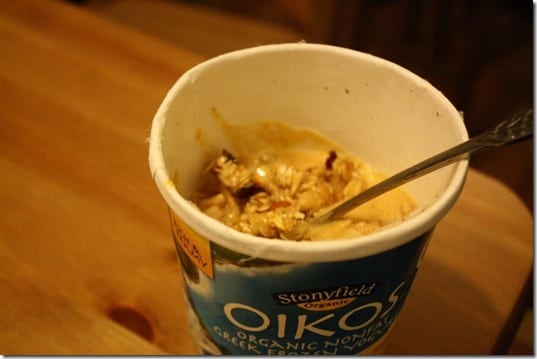 I put it back in the fro-yo container for fun.
Jacky from Jax House left a link to this video in the comments this morning. It's called "The Day After the Marathon" and I can totally appreciate it. Ben always asks me if I'm sore after my long training runs and I never am. Well, I'm sore today (and was pretty tragic yesterday)! Makes me think I don't run hard often enough.
Who cares what some random blogger (read: me) eats?! Let's check out what Michelle Obama eats here!
See ya later
Run SMART Goals
Fill out this form to get the SMART Running Goals worksheet to your inbox!