Yesterday I was pleasantly surprised to see I bought Brussel Sprouts over the weekend! Yes my favorite cooked veggie is back!
I found it odd that the package says "Serves 11" right on the front. I'd say they overestimated that by about 9…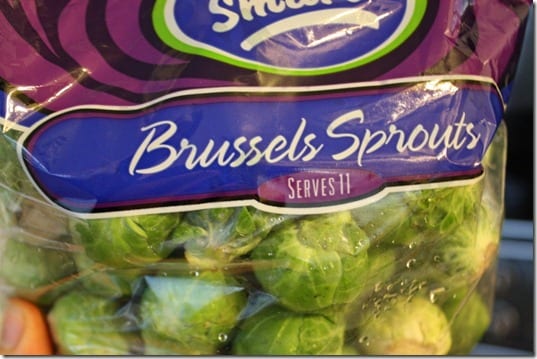 My Roasted Brussels Sprout Recipe:
1. Heat oven to 400
2. Cut b 'sprouts in half. Place in pan coated with olive oil.
3. Spray with a bit more oil. Season. Toss to coat. I threw on some onion I had in the fridge, it's optional.
4. Roast for 30-40 minutes depending on patience and preference.
I also made a crockpot roast because Ben loves me significantly more when I make this for him. That's a potato covered in ketchup.
I rarely drink mid-week, but the marathon was a cause for celebration!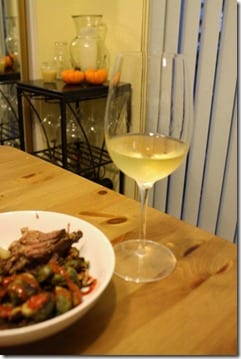 Then, Ben plopped a piece of cheesy sourdough toast on my plate! That man does not skimp on cheese and butter. It's amazing.
Two toasts to my marathon being done!!!
After the marathon I didn't feel up to going out to eat so we kept it low key. (Honestly, I didn't feel like continuing to breathe, but that's neither here nor there.) Last night my need for Yogurtland made me get over the laziness and get outta the house.
I was so happy about my treat I'm pretty sure the Yogurtland worker thought I was either foreign or drunk.
I stayed up late last night watching random T.V. and doing research for a few things. This morning I woke up without a plan – no exercise plan, no life plan, no planned parenthood. Since I'm a morning exerciser it's weird to eat breakfast before anything else…
Toast with Pumpkin Cream Cheese and PB&J/Banana on the other.
Exercise:  I think I'll take a short walk to shake my legs out and spend some good time stretching. I don't go into work until this afternoon, but I have 2 freelance articles due this week.
I'm doing an Ask a Monican about the Marathon and training this week – send me questions to runeatrepeat at gmail or put them in the comments.
Question: Do you decorate your house for Fall (or Halloween)?
Seeing a few neighbors decorations makes me want to!
Run SMART Goals
Fill out this form to get the SMART Running Goals worksheet to your inbox!