Hello and Happy Sunday! I am in Panama right now and have lined up a fun series while I'm gone. I'm asking a few of my favorite bloggers to dish about their running and food must haves!
Today Tina from Faith Fitness Fun shares her thoughts
1. Where is your favorite place to run?
I love running basically anywhere outdoors. We have a local running path not far from where I live and I find myself running there a lot. It is so peaceful and everyone is so friendly. Plus, it has cows. 
2. What is your favorite thing to EAT after you run?
Surprisingly enough, I'm usually not too hungry right after a run so I will typically have a smoothie or bowl of cereal. A few hours later? Watch out! If I could house a huge brunch after every run and then chase it with a beer or some candy corn, I would be a happy camper. 
3. What is your favorite piece of running gear?
My Garmin. Mostly because I never remember to plan and figure out my mileage before I leave.

4. Name the #1 race you dream of running…
I want to run a Ragnar Relay or other overnight team relay one day. It sounds like such fun!

5. Which race that you've ran is your favorite?
Well, I have only run a handful…one 5K, one 10K, and one 15K. I have a feeling my favorite race will be my first half marathon (Savannah Rock N Roll) next month!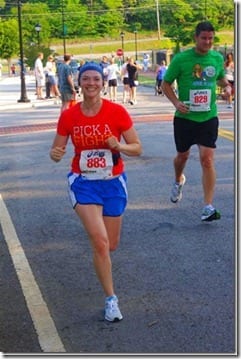 6. What is your favorite song to run to?
"Pour Some Sugar On Me" never gets old for me. But, I'm a total top 40 gal too and can't seem to have a playlist without Black Eyed Peas, Glee, Lady Gaga, Katy Perry, or Pink on it.
Thanks Tina!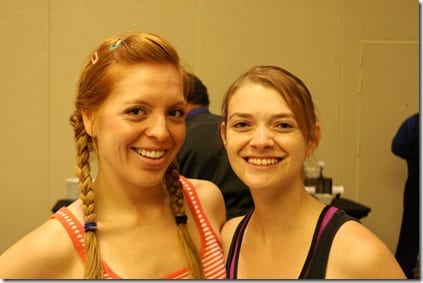 Now it's your turn to answer each of these questions starting with #1 today…
Question #1: Where is your favorite place to run (or walk)?
Run SMART Goals
Fill out this form to get the SMART Running Goals worksheet to your inbox!