Remember this summer when I gained 7 pounds from eating fro-yo all the time and my blogger friends like Skinny Runner didn't gain an ounce?! Well, after I wrote obscene things about her on the Yogurtland walls I had to beg her to re-friend me and write a guest post.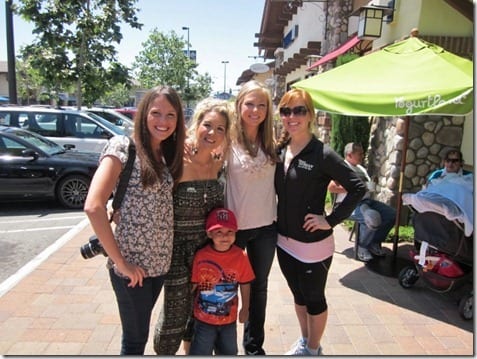 Today my SoCal peep Skinny Runner is sharing her running secrets. Kinda.
1. Where is your favorite place to run?
From the police.
Actually my favorite place to run is probably a 10 mile loop nearby called the Back Bay Loop in Newport Beach.  I like to pretend I'm rich and can afford to live there but I choose to live in the ghetto.  Life's all about choices, right?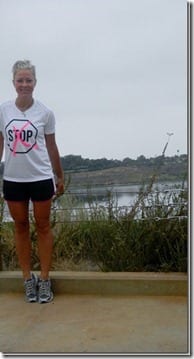 2. What is your favorite thing to eat after you run?
This is very lame in a healthy eater sort of way, but a salad.  always.  No matter what time I finish a run, especially a long one, I always want a cold, salty salad even at 9am.  Yes, I consider it one of the luckiest things ever right behind winning the mega-millions that I crave salad instead of pretty much anything else.
The more salt, the better.  We're talking pickles, olives, sauerkraut, feta cheese, weird stuff but not as weird as Monica's salad.  Let's be honest: nothing tops those psycho creations.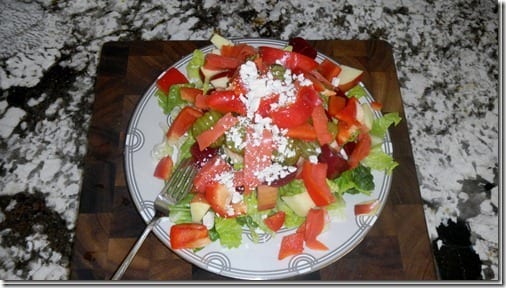 (This salad has smoked salmon, pickled beets, pickles, feta cheese, feta dressing and apples.)
3. What is your favorite piece of running gear?
I'm really tempted to say my sports bra, but black eyes aren't that bad… and the main reason why undereye concealer was invented.  So I'm going with my garmin 405 watch.  I'd like to think I'm generally normal, but I go garmin-crazy: I have to have it on for every run.
4. Name the #1 race you dream of running…
The Amazing Race.  like on tv.  Wait, the tv adds 10 pounds, you say?!  Forget that then; no how, no way.
I'd love to do a big international marathon like London, Berlin or Edinburgh although I'm not 100% sure where that is….
5. Which race that you've ran is your favorite?
That's hard to say because there's a couple marathons that are very special to me for personal reasons (see, I'm not a dude; I have feelings), but as far as actual races, the NYC Marathon last year was pretty insane.  I ran by a reality tv star and met Damien and Nicole from the 7th season of The Biggest Loser.  Oh yeah, and did that whole running a marathon thing.
I'm beyond excited for NYCM this year, but if I don't see someone famous like Alicia Keys singing that New York song out on the sidewalk in front of a hot dog cart or all 4 of the Sex and the City girls having cosmos together at the Statue of Liberty, I'm gonna be really mad.
6. What is your favorite song to run to?
I actually prefer running without music unless I'm in a race, and then I try to wait until the second half of the race to turn it on.  It took me a long time to get to the point where I could run music-less without wanting to trip every person I ran by out of sheer boredom, but now I enjoy the quiet.  Plus, I get to talk to myself more in the third person.  Like that's not weird.
Thanks Skinny Runner! Keep being skinny or you can just stand by me in pictures and look skinny. And running.
See you at Yogurtland when I get back!
Question #2. What is your favorite thing to eat after you run?
Run SMART Goals
Fill out this form to get the SMART Running Goals worksheet to your inbox!