Hey RER readers!  I am Aron and I blog over at runner's rambles where I talk about all things running.  I live in the same lovely state as Monica, just many hours up north in the bay area!  I have actually met Monica one time mid-marathon and can't wait to hang out with her very soon in Vegas! 
1. Where is your favorite place to run?
I love running in wine country, specifically Healdsburg.  I have run the Healdsburg Half Marathon three times and love running through wine country in the fall when the air is cold, the vines are gold and the smell of harvest is in the air.
2. What is your favorite thing to eat after you run?
After a long race like a marathon I tend to go for pancakes… and beer too.  Always a beer.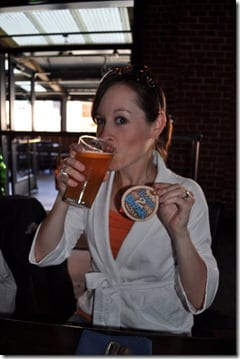 3. What is your favorite piece of running gear?
This is very hard since I love running clothes.  I will say my lululemon Run Inspire crops because not only are they extremely comfortable and I feel good in them, but I only wear them during the colder months which are my favorite months out of the year.
4. Name the #1 race you dream of running…
Another tough one since there are so many I want to run!  Since I have never been to Europe, I am going to pick either the London or Berlin Marathons as my #1.  It would be a huge deal just to be there, let alone running a marathon, but what is a better excuse to go?!
5. Which race that you've ran is your favorite?
The Boston Marathon!  After a year+ of trying to qualify and finally doing so, Boston meant so much to me as a runner.  I had very high expectations for the race and was kind of afraid that it might fall short, but it exceeded my expectations by a lot.  It was the most amazing day and crossing that finish line is something I will never ever forget.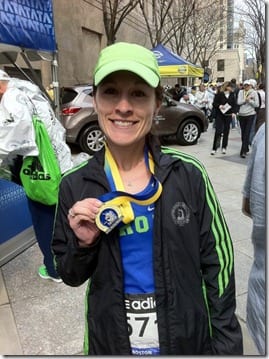 6. What is your favorite song to run to?
My music changes based on what type of run I am running.  If I am doing a tempo run I tend to run to fast songs, but if I am doing a long or easy run I run to all sorts of things!  
Thanks Aron! See ya in Vegas really soon
Question #3: What is your favorite piece of running gear?
Run SMART Goals
Fill out this form to get the SMART Running Goals worksheet to your inbox!