Mid-morning I polished off the grapes I just bought yesterday(!). At least this time I washed them.
Since I still have some remnants of the Panamanian flu I'm trying to figure out what exactly made me sick. Someone left a comment saying I should start washing my fruit. That reminded me that I ate grapes in Panama without washing them. (I also drank the water which all the books and locals said was completely safe.)
I like to pride myself on having a stomach that I compare to an iron cauldron… Example: In college after I was completely vegan for over 6 months I fell off the wagon and had a burger from WhataBurger (a greasy chain). No stomach issues at all
  <- I've went veg on and off for the last 10 years and never had an issue going from greens to meats.
But, this Panamanian parasite killed my belly! I still don't feel completely back to normal and have periodic headaches and upper stomach pain. It's very light now, so I'm hoping it will be completely gone soon.
Luckily (???) my hunger hasn't went away this entire time! I ate the last of my fancy dinner leftovers (only tofu left), pumped up with veggies and cashews.
I specifically didn't add rice to that bowl because I wanted cereal on the side x2 (or 3)…
I know my eats aren't the most appealing today, so let me share the cutest thing…
Yesterday Ben was on the phone and I was blogging when I glanced over and saw this: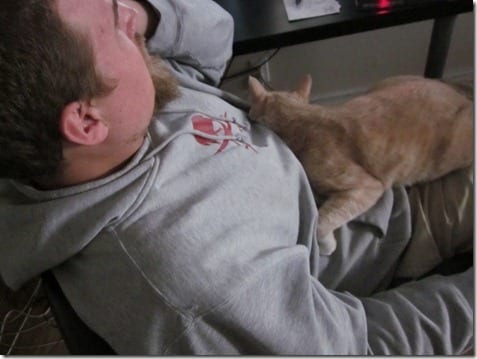 Vegas curled up on his lap with his furry little paws around Ben. I die.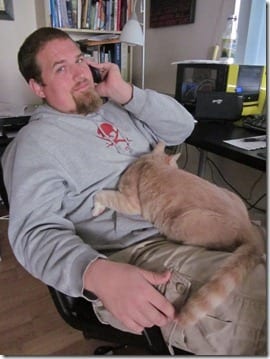 That is some major bromance.
Run SMART Goals
Fill out this form to get the SMART Running Goals worksheet to your inbox!