So yeah, I woke up today to see my Garmin dead. I freaked out and stabbed a man. Then, I decided to charge it and take short walk with Ben. When I got back I didn't feel like running anymore. I felt like crying and punching someone. But, I decided a run would make me feel better, so I went for it. (If you can't tell it's TOM and I'm ridiculous today 🙁  it's out of character and I thought I'd note it.)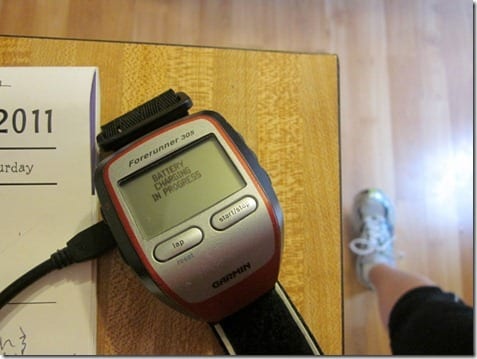 I was supposed to do a speed session today, but I'm lazy. I did 2 1600s instead of 3. The first one was ROCKIN! The second was okay.
Running Stretches – I often get asked about my favorite stretches and thought I'd share this lazy stretch I love. This is a good one for female runners because our IT Band and hips are often tight.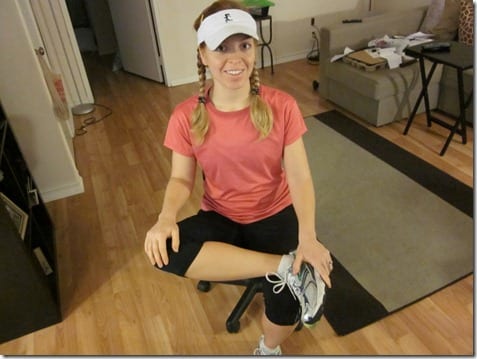 I sit in a chair and carefully cross my leg "boy style". Then, I gently lean forward until I feel a stretch in my outer thigh. Be very careful not too tweak your knee here.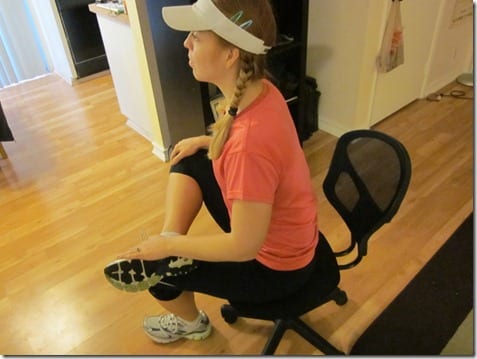 Do both sides and note any differences in tightness between legs.
Ben says it's looks like I'm meditating. Nope, I'm just dreaming about chocolate cake…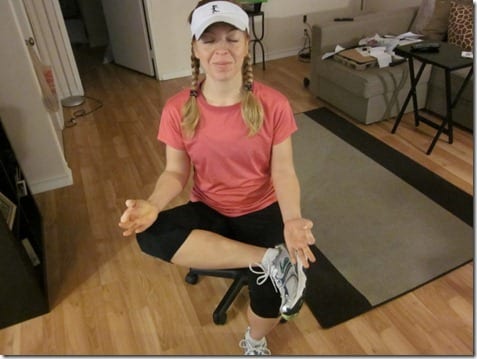 Question: What's your favorite body part to stretch?
Mine is my stomach – I can't wait to Thanksgiving to get my stretch on!
Run SMART Goals
Fill out this form to get the SMART Running Goals worksheet to your inbox!