Ben was off from work today so we ran errands and did some Christmas shopping. I knew we would be out around lunch time so I brought along a salad for eatin'. I added it to our Costco picnic and dug in!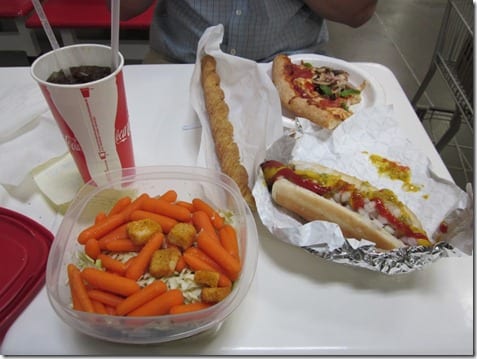 But, Ben likes his ladies with junk in the trunk so he made sure I ate pizza too. Darn
Truthfully, I have been waiting to hit up Costco for a churro for a week! As a Mexican who loves a good dessert, I consider myself a churro expert. Costco's is one of the best.
Then, I had a big birthday party to attend!!! SkinnyRunner's b-day is tomorrow so I threw her a surprise party. In attendance: me.
and her dog that is smaller than my iced coffee.
Okay, it wasn't a real party as much as a walk to complain about how it's only 68 degrees not 70 like the weatherman said it would be. Liar.
A blogger cannot live on iced coffee alone, so we also hit up Yogurtland for an afternoon snack.
For the birthday party entertainment I decided to bust out my odd human trick – holding a cup of fro-yo with no hands! I can also eat it with no hands, but that trick got me banned from the other Yogurtland a while back.
So now I eat it with a spoon like a lady.
SkinnyRunner was not impressed with my tricks. I knew I should have ordered a pair of dancing white tigers instead. Next year.
Ben's work Christmas Party is tonight so I should probably try to slap some concealer over these pimples and get ready. See ya later
Run SMART Goals
Fill out this form to get the SMART Running Goals worksheet to your inbox!