Yep, this post is one big shi(r)t show. Last week's Holiday Half was my last race of 2011 and I'm sad about it. Since I run for the free $50 shirt…I thought I'd reminisce over my shirt collection from the year.
It all started with Rock N Roll Phoenix in January…
Surf City Marathon/Half Marathon (February). Long sleeve is finally back in use after a hot summer!
Redlands – (cotton tee) I can't find it, but here's Ben's… (he ran the 5k)
Black Cat 10 Miler in Boston. Bright green is great for running before the sun is up (or already down).
OC half –DNS, but wore the heck out of this shirt! I've worn it in multiple races!
Laguna Hills Half –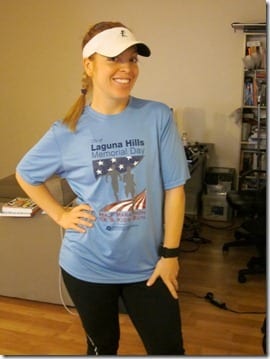 Fontana Half – cotton tee. Yes, I just woke up. Don't judge.
Long Beach Full Marathon
(Last year's Long Beach is one of my all time faves even though it's gray.)
Mission Inn – cotton tee, plus the course was almost a mile short. Boo.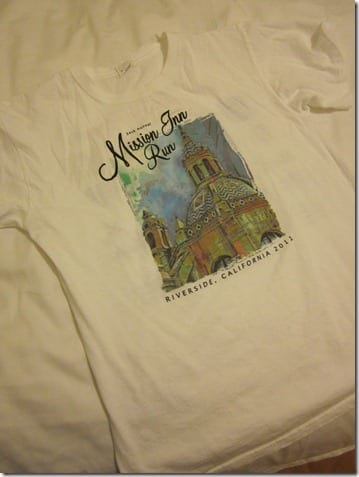 Rock n Roll Las Vegas – I'm a fan of the cut and design, not the color.
Holiday Half – dark green tech tee with silver strip down the side to make ya look slimmer. I like!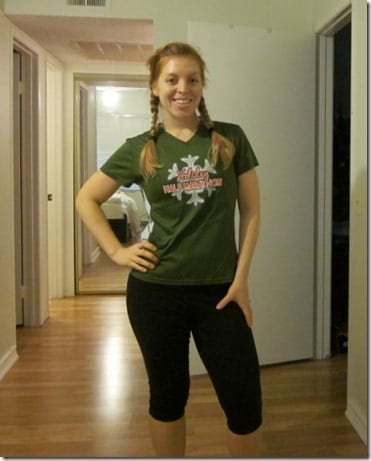 ***And so this ends my shirt collection for 2011. I really don't know what 2012 has in store… Better get on that!
After boot camp this morning I was supposed to do speed work (400 repeats), but when I went to turn on my Garmin it wouldn't respond. This is the second time this has happened this week (it's happened in the past as well). I know how to do a hard reset, but it's still not responding. Boo.
Thanks to the blog I know that I bought it 3 years ago! Crazy! So, it may just be time to get a new one. I've used the heck out of it over the last 3 years!
I think I'm going to figure out how to use my new Moto device and keeping messing with it. But, since my Garmin didn't work and I was in a new neighborhood I had no idea how to measure (and time!) 400s. I did 3 miles instead with some fartlek work and called it a run.
Pancakes on an ornament plate for breakfast
with tons of chia seeds and topped with PB&PB. Merry Christmas to me!
Question: What color shirt are you wearing right now?
I'm in a pink tech tee. I should shower…
Run SMART Goals
Fill out this form to get the SMART Running Goals worksheet to your inbox!