I went to bed at 8pm last night and slept until 6am today – guess I needed sleep! I'm hoping to stay on an early schedule because I start teaching the 5:30am boot camp next week and don't want to be a zombie again.
I had a speed work run on the schedule – 1 mile repeats, but I realize I need to drive to a track or other neighborhood to do speed work. I live in a ditch. My place is at the bottom of a few surrounding hilly areas so it's really hard to go speedy.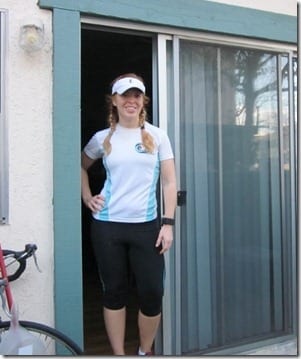 But, I did hang on to some Florida fast-ness because I busted out 6 quick miles!
Mile 1: 8:36 (swore I was going slow here)

Mile 2: 8:38

Mile 3: 8:50

Mile 4: 8:07 (turned around to come back home to the ditch)

Mile 5: 8:08

Mile 6: 8:58
It's gorgeous today!
I ate some watermelon while cooking up French Toast for breakfast. I think the fake syrup makes me want to keep eating because I always follow this meal up with a piece of PB&J.
I just noticed favorite plate is chipped
See it's near the brown polka dot on the left side. This is why I can't have nice things.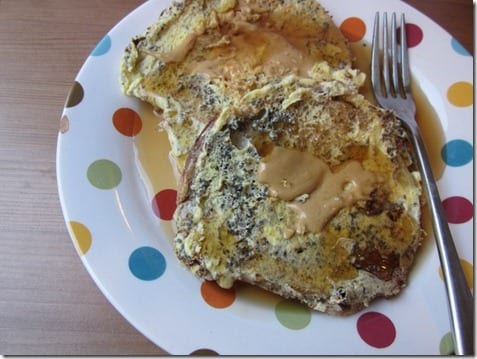 I am open and honest with way too much on RER. One of my open flaws is my addiction to diet soda. Today Show R.D. Joy Bauer suggested you limit your diet soda intake to 1 every afternoon for a few weeks before assessing if you want to cut it out completely or wean off the stuff.
Visit msnbc.com for breaking news, world news, and news about the economy
If you need some inspiration to drink water (and not diet soda!) here's a perfect contest. Bamboo Bottle will send one lucky RER reader a very cool Bamboo reusable water bottle! (Technically you can still fill it with Diet Dr. Pepper.)
You can buy one on their website Bamboo Bottle for 20% off if you enter the word "Health" in the coupon code box.
To Enter answer the question: How do you kick a bad habit – cold turkey or gradually?
*Open to US and Canada residents only. Contest ends 1/6/12 at 6am PST
Run SMART Goals
Fill out this form to get the SMART Running Goals worksheet to your inbox!