Hello
I took a little walk before celebrating French Toast Friday!
A little bit ah eggs, cinnamon, chia seeds and lots o' AB.
Then, I hit up the gym for half a Zumba class and strength training. I even took a fun pic, but it's MIA because I broke up my phone trying to plug the cord in the wrong way 
  Ben's trying to fix it right now, but I'm worried it's not going to work. I worry a lot.
The Farmer's Market is right next to the gym so Ben met me there via his Chevro-legs.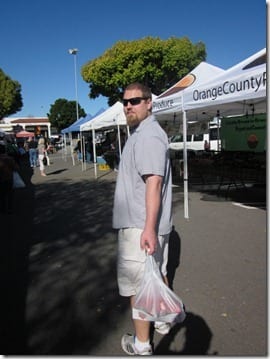 We came home with a big stash of grapes, leeks and strawberries.
I stress a lot. Today I'm stressed about my phone, making my doctor's appointment on time, my sick Grams, propaganda on TV, my chin pimples, butt dimples, the price of gas… You get the point.
Luckily, C3* for Stress sent me some of their drink samples. It's an all natural drink mix that is supposed to help relieve stress. It doesn't taste like kool-aid, but neither does vodka and sometimes you gotta deal. I'm willing to give something a try if it's for health reasons. Plus, it's packed with B vitamins which I like.
Now, if you're worried about something (like how you're reading this crappy blog when you should be working) you can try some C3* for Stress and feel a little better about it! The company is giving one RER reader a month supply of C3 and a $75.00 Spa Finder Give Certificate (good for thousands of spas throughout the country!!! I've used these certificates before and am jealous.).
To Enter answer the question: How do you deal with stress?
Open to US residents. Contest closes Saturday 1/14/12 at 8am PST.
Run SMART Goals
Fill out this form to get the SMART Running Goals worksheet to your inbox!