Maybe it's because I love food, maybe it's because I love shopping, maybe it's because I love food shopping – but I am good at finding new foods!
Today I went in to Target for one little ol' thing and spotted the new Peanut Butter Cheerios right away.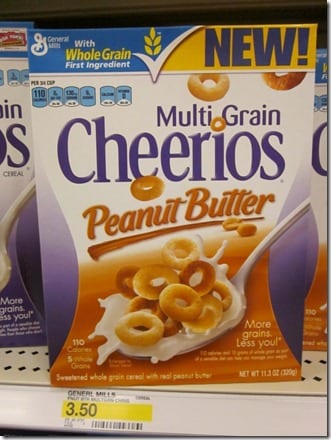 I was on the phone with my mom and pretty much made her think I found the last jar of concealer during pimple period week.
The nutrition stats are okay – not good, not bad.
Peanut Butter Cheerios nutrition information:
But the cereal is good! You know how you try to put some PB on your spoon when you're eating cereal but it just gets hard with the cold milk and you end up eating one big ol' hard lump of nut butter (where is she going with this?)?
Yes, I know at least some of you are nodding.
Well, now you don't have to do that. All the PB flavor without that hard lump!
They also have Dulce de Leche Cheerios! I didn't buy this kind – has anyone tried it??
I'm not just good at finding new foods (another find is coming tonight), I'm good at losing toenails (I know, food and gross toes – multitalented over here).
When I first starting running marathons this blog was quite the foot fetish spectacle. For some reason I'm intrigued by losing toe nails. Today, I didn't lose a nail, but I did discover a bloody sock when I took off my shoes post-run.
Since I skipped Sunday Searches that led unsuspecting people to Run Eat Repeat yesterday, let me share today…
Top 5 RER Searches of the Week – and my responses:
1. big butts – yep, you came to the right place
2. i eat a tub of hummus a day – you'll soon end up with #1, trust me
3. ginger with no soul – Only God can judge me now.
4. i'm losing it man – Eat some cheerios and relax
5. i like your hair i hope you win – Win what? I hope the prize is food…
Run SMART Goals
Fill out this form to get the SMART Running Goals worksheet to your inbox!