Last week I mentioned what you eat is the first and second most important aspect of weight loss. Number three is water.
The obvious next question is – How much water should you drink?
Eight glasses a day is the standard. But, who the heck drinks out of a glass anymore?!?! I shouldn't even be allowed to own glass with the way Ben and I break them. Sorry, that was off topic.
The Institute of Medicine suggests…
Water intake (AI) for men is roughly 3 liters (about 13 cups) of total beverages a day. The AI for women is 2.2 liters (about 9 cups) of total beverages a day. (source)
But many beverages do count toward your water intake for the day – coffee, tea, Redbull, diet DP, sports drinks.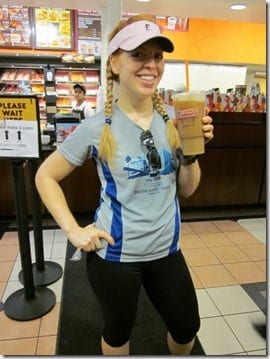 An easy saying to remember is "8 before 8"! Drink 8 cups of water before 8pm. But you may need more if you…
sweat a lot or do a lot of exercise

are pregnant or breast feeding

live in a hot climate or high altitude

have an illness

are thirsty, hello
Look at all this cool stuff water does in your body…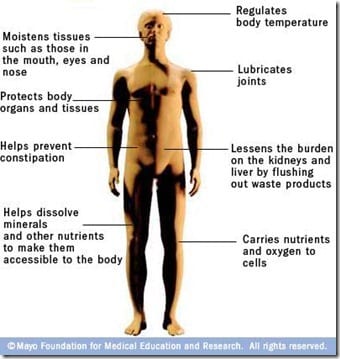 (image source)
Drink up! (But not too much because one time I drank too much water.)
Today's Ask a Monican is all about Running
Topics:
Why are long runs supposed to be so slow?

How do I get slower?

Can I run a marathon in August if I am traveling for 3 weeks in July?
PIPA and SOPA – I'm not talking about Pipa Middleton and a delicious Mexican dish – oh wait, that's Sopes (but I can't share wikipedia info on it anyways…).
Protect IP Act (PIPA) in the Senate and the Stop Online Piracy Act (SOPA) in the House, would censor the Web and impose harmful regulations on American business.
Although I am all for fighting piracy, these bills threaten to censor the internet – which is unacceptable and dangerous. Congress is voting on this Jan 24. Do some research if you're not familiar, but if you are familiar and want to sign a petition against it  go here.
Email me your Ask a Monican questions to runeatrepeat at gmail dot com
Question: Do you keep track of how much water you drink?
I don't, but I usually am drinking all day since I'm a sweaty beast.
Run SMART Goals
Fill out this form to get the SMART Running Goals worksheet to your inbox!