THANK YOU all for commenting on my last post! We got over 100 comments in under two hours and the Orange County AHA will receive $500 from Quaker on our behalf. (I'll try to get them to include all our names in the note. No promises.)
I got tagged for that "11 Random Things" about me game that's going around, but I recently shared 5 quirky things so I'm only giving you six more.
1. (This goes along with my quirky hating to get out of the shower thing…) I ran out of q-tips today and freaked out and went straight to the store sopping wet. I hate when my ears are wet, makes me cold.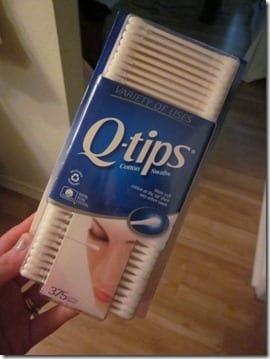 2. I feel like I have a ton of regrets about major life decisions. It's something I really want to let go of this year
3. Last night I had a dream that a stranger kid slammed a guinea pig into a cement block and it was dying. I was screaming for Ben and he woke me up.
And that's why you get married – so someone wakes you up from  bad dreams.
4. I wish I drank more. I don't know anyone who says that, but I say I'm going to start drinking more every year and never do. I am not good at relaxing so I thought this would help. Smart plan, right?
5. My least favorite chores are putting away dishes and getting gas.
6. All my childhood videos are super embarrassing because I was unbelievably bossy and LOUD! I know, it's hard to imagine.
In other news, since I'm the master Manager's Special Scorer I grabbed this Roasted Garlic Loaf for 50% off today!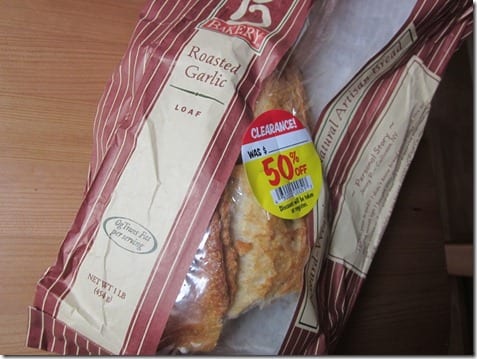 See that whole clove of garlic in the bottom right? Well, my carpool friends are going to be smelling that tonight. Sorry ladies.
Annnnnd a big ol' mixing bowl salad. Three years later I am still not sick of TJ's Peanut Dressing.
And now I present to you a new feature on RER – Just the tip Tuesday.
One tip. On Tuesday.
Since just the tip was inspired by TJ's List on Twitter this is a Trader Joes Tip: Buy the Spicy Peanut Vinaigrette dressing.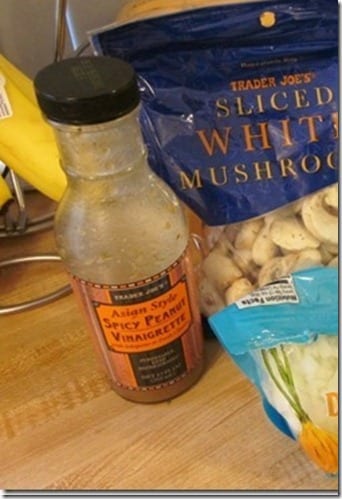 As I was writing this post the Fed Ex delivered this Healthiest Foods on Earth 2012 Calendar from Dole. It made me happy to remember the Dole Summit I attended in November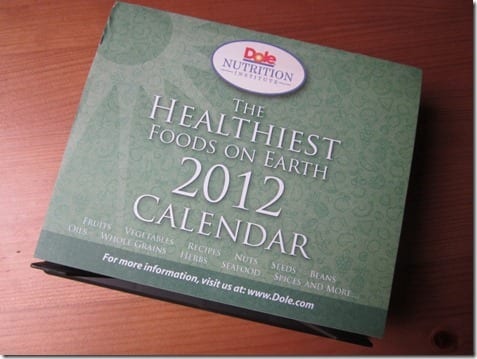 Part of the reason I wanted to do Jamie Eason's strength routine was forced variation – I need to be made to change it up sometimes! (See above mentioned salad for the 953 day in a row.) So I'm hoping this calendar will expose me to some new foods. I bought the healthiest foods book a while back and never read it – this is like my Cliff's Notes version!
Hey, ever heard of a Strawberry?!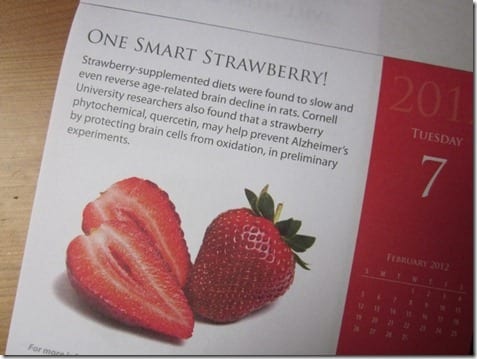 Kidding. Maybe tomorrow will bring a new healthy food.
I am going to a fun dinner tonight in San Diego with my runner / blogger peeps! See ya later
Run SMART Goals
Fill out this form to get the SMART Running Goals worksheet to your inbox!