The Bumble Bee tuna peeps sent me some Lemon & Pepper tuna 5 years ago (give or take) and I finally used it tonight. I love tuna, but don't think to make it that often (or I get it from Subway).
I know it's already seasoned but I'm an OG tuna kinda girl and still mixed it with a little lf mayo, pickle juice, chopped picked, green onion.
And the most random salad of the day award goes to…
My dinner.
It had roasted broccoli, buffalo chicken pieces, chickpeas and tuna.
Now I'm sipping some hot cocoa
  I got this mug when I was out there for the Las Vegas RnR half in December and I'm actually going to Vegas next week for my brother's girl friend's birthday! It's just for one night a "turn around" trip if you will.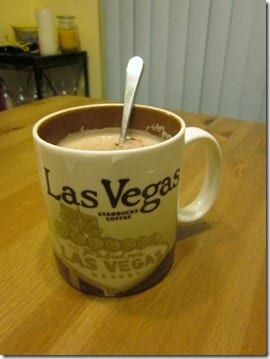 It must be my blogaversary present because Dunkin Donuts is finally coming to California!!! Not only that, this state is BIG and the first location is fairly close to me.
50 miles is an acceptable commute to get coffee right?
See you soon old friend…
Run SMART Goals
Fill out this form to get the SMART Running Goals worksheet to your inbox!