Sundays are a rest day for me, but my legs need a little movement after a long run so I went for a walk with Ben this morning. We made a pit stop at Jamba for a shared smoothie.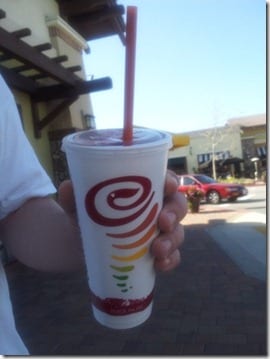 By the time we got home I was more than ready for breakfast. I made a super quick scramble sandwich with a Pomelo on the side (Farmer's Market purchase).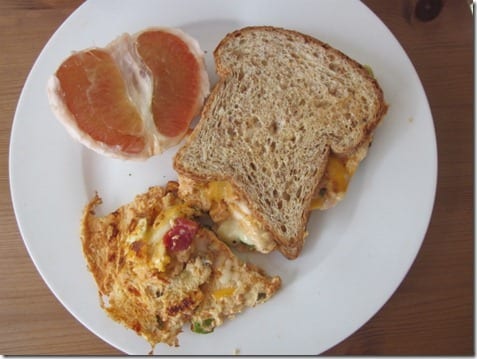 It's like a mild grapefruit, but the skin is very very thick.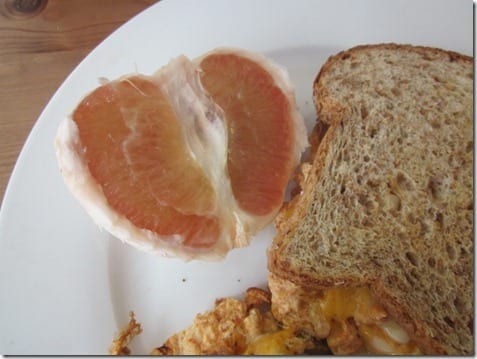 Ben and I hit up the church we went to a couple weekends ago to try again. I still like it, but people are friendly to the point of making me a little embarrassed? Does that make sense?
Back at home Ben was craving a cheeseburger for lunch, but I decided to make something. I nuked a Southwestern Soufflé from garden lites. Loved it, but these don't make the best salad topping because they crumble.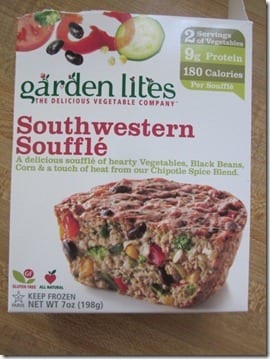 And then he walked in with this… fried zucchini and french fries. He said he wanted both, but the orders come with a ton of each! So, I had to help of course
I made sure to get a plate to put my serving on so I didn't eat the entire batch before realizing it. Fries just "disappear" around me.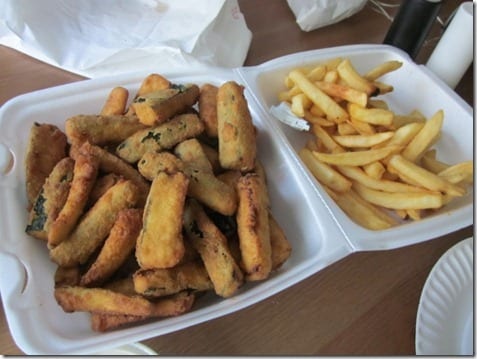 I ran some errands this afternoon and had this little guy as a snack. It's like a shot of tequila yogurt.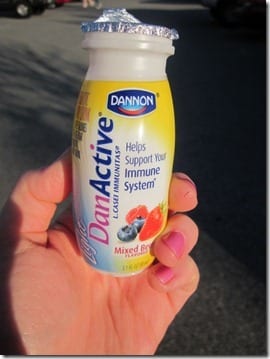 I didn't realize how long I was going to be out and didn't have a snack on hand so I came home ready to eat my arm off again. I made a super quick batch of protein pancakes (my sweet tooth is alive and very well!).
And since I only had drops of syrup left I had to improvise with toppings. I used this new find – Laughing Cow Strawberry Cream Cheese. *Tip: this pack came with a dollar off sticker right on it that I used.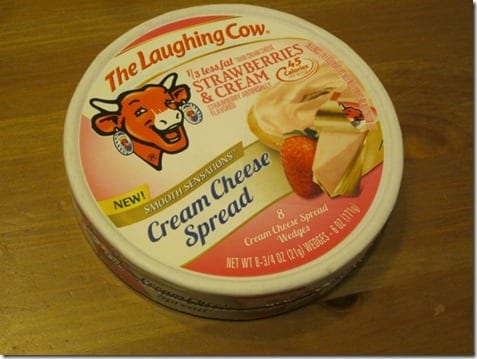 Protein pancakes topped with PB&J and cream cheese – I swear this tasted like funnel cake!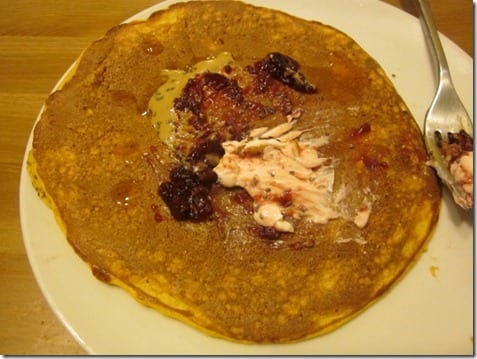 Now for Sunday Set up for March 3, 2012….
This week is going to be a little crazy for me. Ben and I are going to Vegas for one night Monday to Tuesday. Then, I have an all day that big Natural Products expo on Friday. And Saturday is the Refuel event in Los Angeles.
Eating Plan:
I stocked up on veggies and eggs and protein powder for the week. And I have a box 'o salad for tomorrow's road trip. I am going to track everything I eat even though I'm busy and just make sure to eat extra clean to allow for drinks!
Exercise:
Monday: 6 miles
Tuesday: Walking around Vegas, Ripped Level 1
Wednesday: 8 miles Tempo pace
Thursday: Yoga
Friday: 5 miles
Saturday: 18 miles?
Sunday: Rest, rest, rest.
Search Me Sunday – the top searches that brought people to RER this week:
hot mom food – Even if I was a mom I couldn't help ya there.
fear of runny eggs – Send those my way!
how to diet when you're always hungry and love carbs – Please let me know if you find the answer to this one…
what to do after eating too much cinnamon – I can't help you there. Eat too much cinnamon toast crunch and I'm your girl.
eating nothing but a jar of nutella a day – Is this the next diet craze? I should buy stock in Nutella.
are running shorts made to pee in? – Yes. On a related note, things that happen on a long run stay on a long run
Question: How are you getting ready for this week?
What food "disappears" around you??
Run SMART Goals
Fill out this form to get the SMART Running Goals worksheet to your inbox!