Well, I totally forgot about Weight Loss Wednesday because I thought it was Thursday! I am a mess.
A mess in a dress showing too much chest.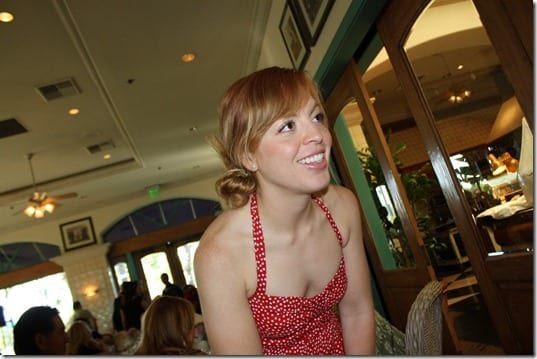 But, I'm happy because my client gave me an Easter present! YOGURTLAND!!! Who wants to join me? Seriously. I haven't had fro-yo in almost 40 days and 40 nights. I'm shaking from the withdrawals.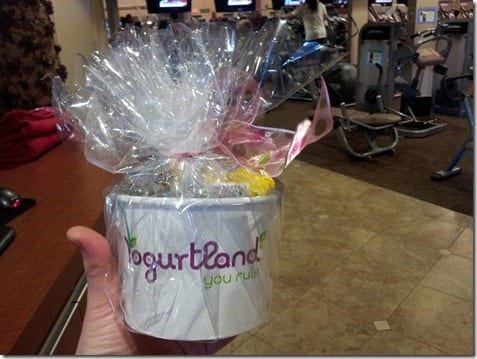 After my morning client I did my own back and biceps workout. I switched out the nuts for 2 string cheeses.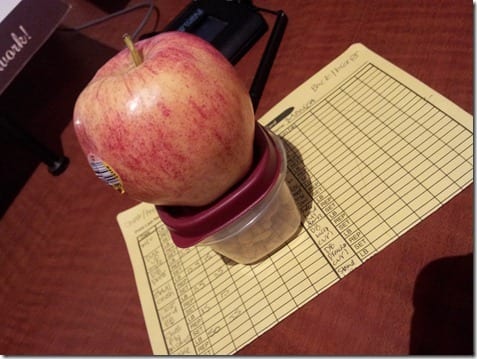 Lunch was leftovers from last night's chicken stir fry. This was more filling than my usual salad!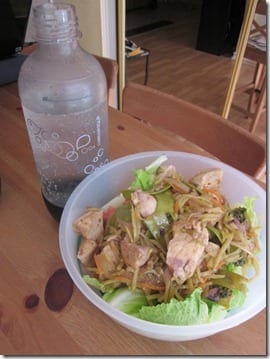 Then, I headed to the 'bucks for a meet up with one of the trainers I met while leading the hike a few weeks back. We're going to be helping each other out on a few upcoming projects. Hint hint, she's a triathlon coach. I'll leave it at that.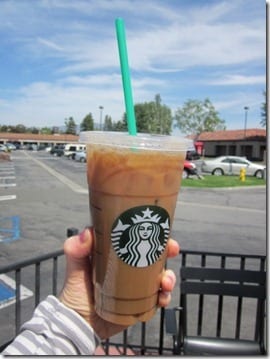 Remember back in the day when I was just a little gigolo used to feature Weight Loss Success stores on RER?
Well, I didn't.
But, a reader did. And she emailed me her weight loss success story.
Paige lost 133 pounds and has kept it off for 15 months! I asked her the questions I'm sure you're dying to know…
RER: How did you lose the weight?
Paige: I lost the weight with diet and exercise. (No pills, diets, surgery, gimmicks.)
RER: What was a typical day like when you were losing?
Paige: When I was losing the weight and still do now with maintaining, It's bout being in tune with my body. Feeding it for fuel not for pleasure. So I focused each day on making good choices and getting what my body needed for exercise. I also work a full time job, as well as enjoy my husband and two children in the process. Life is good!
RER: What do you eat in a typical day (now)?
Paige: Breakfast: Usually Oatmeal and berries with a serving of Reddi Eggs. (scrambled with salsa.)
    AM Snack: Cottage Cheese and red grapes
    Lunch: Turkey sandwich on wheat sandwich thin, with lettuce and a Jalapeno greek yogurt spread from Costco, and a cheese stick.
    Afternoon Snack: Greek Yogurt and granola
    Dinner: 4 oz of chicken, fish or turkey burger patty, 4 oz baked sweet potato, 1 1/2 cups broccoli and a pad of real butter.
    PM Snack: 1/cup of cottage cheese or a cheese stick.
RER: What do you do for exercise?
Paige: I try to get to the gym and do resistance training 3 times a week and then cardio 4 times a week. (Usually I just add in cardio after each resistance workout so I'm only working out 4 days a week at most. Cardio may include anything from the stair climber, to the bike, to running. It varies.
RER: What's your biggest obstacle in maintaining now?
Paige: I've been maintaining for over a year now and really I have no desire to go back to being "Fat Paige" I think it's motivation in itself when I'm finally enjoying things I've never though were possible in my life. Why would I want to give any of that up? I love being active and love feeling healthy.
RER: Any tips for someone trying to lose weight now?
Paige: Anybody can lose weight! I did. And I thought it was merely an impossible task. Just put your mind to it and don't deviate from what you want for you and your body. You can become anything you want to be! Never limit yourself. Find a support system and make it happen. Most importantly….BELIEVE in yourself!
Paige blogs at Joy Journey Paige !
In other Health / Running / Other News:
Finally, science catches up with something I discovered years ago… Yale study concludes Chocolate is a Health Food.
Not able to attend the London Olympics? You can watch all three of the U.S. Men's Olympic Marathon runners in New York May 12th! The men will be running the UAE Healthy Kidney 10K.
I'm surprised my new best friend, Abdi Abdirahman didn't mention it when we were hanging out a few weeks ago at the Endurance Live Awards. I guess we were just too busy exchanging running tips…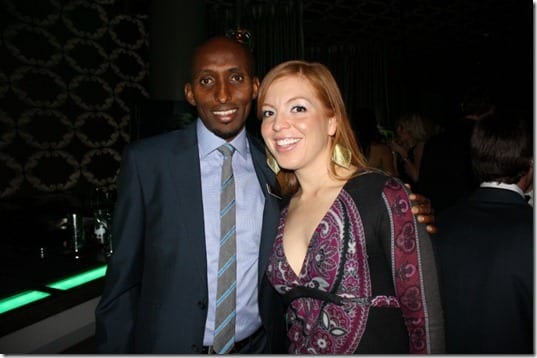 Questions: Consider chocolate a health food? Necessity? Life line?
Anyone going to the Olympics?
And don't forget to tell Paige she rocks!
Run SMART Goals
Fill out this form to get the SMART Running Goals worksheet to your inbox!