Howdy howdy howdy! I was super productive today so I get a gold star
Mid-morning I had an orange and 'just a handful' of cashews.
Lunch was the usual with a new addition – very lemon-y tea and a pineapple Chobani. I'm trying to add yogurt or something to my salad lunch to help prevent afternoon binges. So far so good.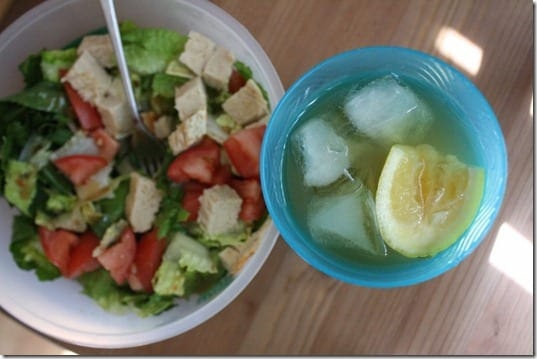 I also had the world's smallest bowl of granola because I forgot I owed Lauren a picture of it for my review of the Mexican Hot Chocolate Granola!
I eat my smoothies in a bowl with a Yogurtland spoon. They taste better that way.
This afternoon I turned on the TV for some background noise as I cleaned. Dr. Oz was on talking about how to break your sugar addiction. I ended up standing in the front of the TV the entire episode watching it ironically eating a Snickers bar.
You can check out Dr. Oz's tips to break your sugar addiction here.
His tips include taking Chromium polynicotinate (supposedly it helps take the edge off) and eating fruit with your meals for that sugar fix. The other tip is to eat PB & chocolate together. Um, duh.
On the topic of weight loss he had a few tips for snacking. I've thought of this before, but always thought it was too crazy for even me. Well, not anymore!
You guys know I am a cereal killer and can kill a box of cereal in 1 day. I love it and now just try to keep it out of the house unless I'm giving myself full permission to eat a whole box in 24 hours.
Dr. Oz suggested eating popcorn like cereal for a sweet / salty combo and I died. Then, I came back to life and rushed to Target for unsweetened almond milk (any milk would work).
Tip: Make the popcorn. Pour the milk into your cereal bowl. THEN, put the popcorn on top of the milk and scoop. Pouring the milk on top of the popcorn makes it sad.
I made a 100 calorie bag of kettle corn and added a little stevia (because of my previously mentioned sugar addiction). Try poppin' cereal and let me know what you think!
Dinah!
See ya later!
Run SMART Goals
Fill out this form to get the SMART Running Goals worksheet to your inbox!